We recently carried out a project involving the installation of a resin bound stone driveway at a residential property in Chorley. The existing surface was tarmac and the client wanted a more decorative design for the driveway and path leading up to their home. Resin bound gravel is a great option as it is fully porous and comes in a variety of colours and designs.
Preparing the Area
Before laying the surfacing itself, our team had to prepare the existing macadam area. They did this by ensuring that the ground was completely clear of dirt and leaves. Then they fitted edgings around the perimeter of the drive and path for the surface to be laid up to.
Once this stage was complete, the team were ready to begin the installation of the paving in the desired area. As macadam provides an ideal base for the stone paving, we did not need to carry out any groundworks or install a sub-base. Visit our tarmacadam page to see how this surface can be used alone for outdoor areas.
Installing the Resin Bound Stone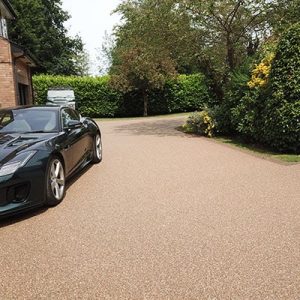 This particular specification is made up of stones mixed with resin, and we'll create this mixture on site. When the stone aggregate and resin were combined in the mixer, our installers poured the mixture out onto the surface one small space at a time. They then hand-trowelled it to ensure the correct depth and a smooth finish. This process was repeated across the entire area until it was completely covered.
After that, the flooring was left to cure and completely set before having any cars or foot traffic over it. The curing time is usually 24 hours, but waiting 48 hours is advised to ensure maximum stability. When the surface is cured, it is suitable for heavy footfall and use by cars and other vehicles. You'll often find this specification in car parks, and at visitor attractions. Click here to see our pathways page and learn more.
Have a look at the video below to see the full project from start to finish:
Client Reference
When this project was completed, the client was very happy with the overall finish. View their reference here:
'We found the whole experience to be overwhelmingly positive. The product is outstanding and the service was highly professional. Although I had some considerable doubts about the overall cost, I have come to the conclusion that it was worth every penny.' – Brett Trevalyan
Stone Driveway Specifications
We have completed many projects similar to this around the UK, both at domestic homes and commercial buildings. The porous qualities encourage water drainage rather than allowing puddles to form on the surface. It's also available in a selection of different colours and can be installed around swimming pools and decorative trees. Some clients choose to have bonded gravel instead, see the difference between the two specifications here.
Get in touch with our team today to find out more about the costs of installing this type of surfacing. The prices can vary depending on location, area size and design. Let us know what you're looking for and we'd be happy to provide a quote. We have plenty more domestic driveway ideas so feel free to check these out if you are interested in other options.
Here are some resin bound articles you might like:
We install resin bound surfacing nationwide in the UK and can offer competitive prices for both supply and installation of resin bound surfaces.