Resin Bound Gravel Installation
in Cheltenham, Gloucestershire

At Soft Surfaces, we're a specialist installer on resin bound gravel flooring in Cheltenham, Gloucestershire and are able to fit this surface nationwide.
In addition to installations, our team can offer resin bound gravel repair services for existing resin bound gravel surfaces within this location, so if you have currently got a resin bound gravel surface that needs either resurfacing or repairing, feel free to get in touch with us.
For this particular blog post, we show off one of our resin bound gravel installations that we carried out in Cheltenham, Gloucestershire.
Below you can see the specific information for this install, as well as the video transcript describing the job in detail.
As always if you are interested in any of our resin bound gravel services we offer throughout Cheltenham or the entire Gloucestershire area, feel free to get in touch with us for a free, no obligation quote today.
Resin Bound Gravel Installation in Cheltenham, Gloucestershire Case Study
What was the specification? : 16mm Resin Bound
What colours were used? : Standard buff
What was the size of the job? : 160m²
How long did the job take?: 2 days on site
What sub base was used? : Open Textured Macadam
Resin Bound Surfacing
Please see the video below which shows the resin-bound stone finish once installed.
Video Transcript:
Hi guys, it's Dan here. Today I'm going to be showing you a resin bound gravel installation in Cheltenham, Gloucestershire. So this particular client wanted an even surface installing that was durable and had excellent porous qualities and that's exactly what we installed for them with this resin bound surface.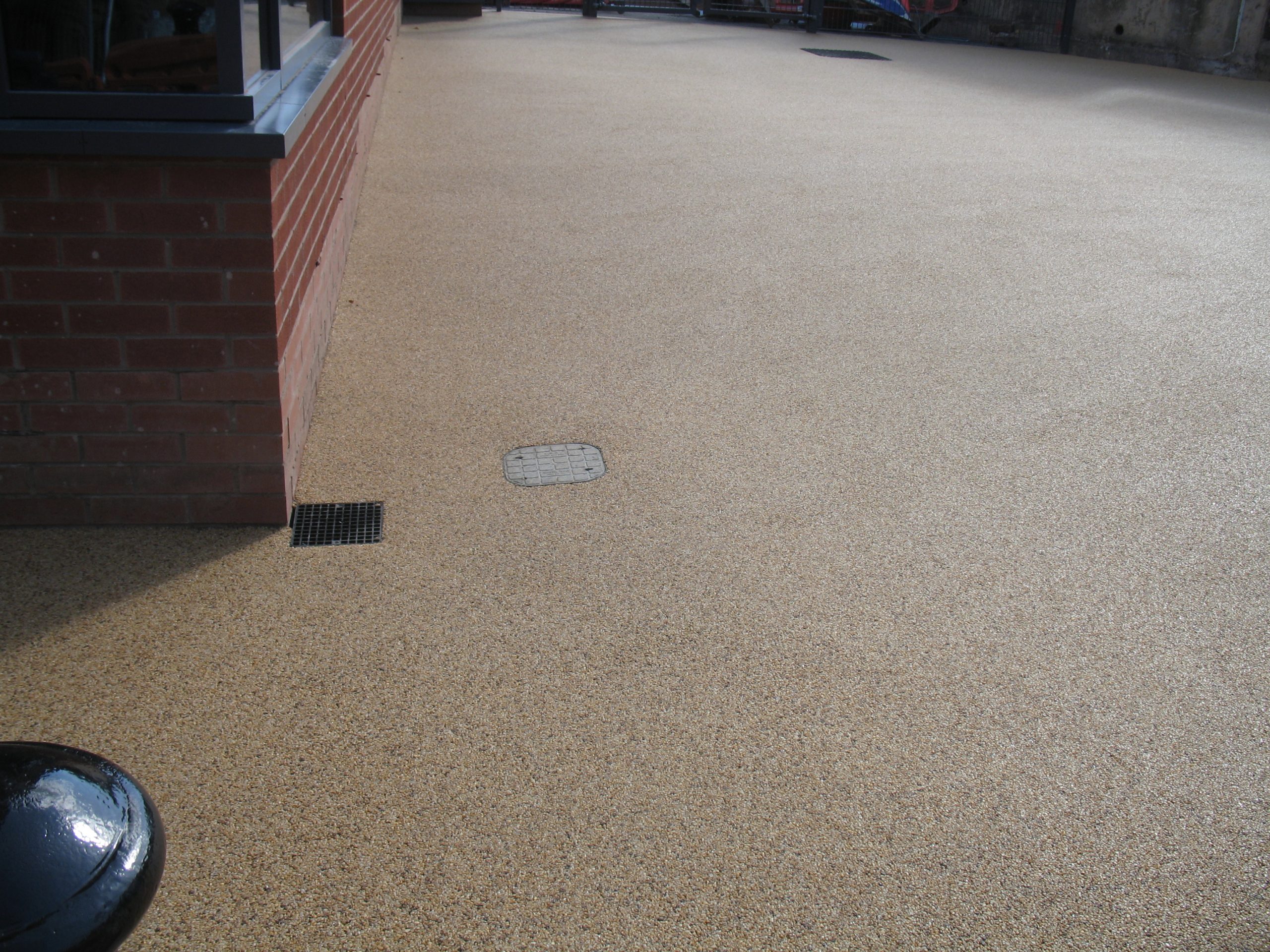 Resin bound is a service that gives the appearance of loose stone, but it's actually installed completely flat reducing the regular maintenance needed for stone driveways. Popular for walkways, driveways, large open space and more, resin bound surfacing is available in a massive variety of colors to choose from. We actually have over 20 years of experience working up and down the country installing these surface types, and there truly is no job too big or too small for us nationwide. So if you're interested in having a resin bound surface installed, please don't hesitate to contact us.
So you can see now from the images that this job has actually been installed. The client was really pleased with the job we actually carried out for them, and they were over the moon with the quality of the resin bound itself. Here at Soft Surfaces, we've actually carried lots of work across the Gloucestershire area, and because of this, we actually rank in Google for the following keywords: resin flooring experts Cheltenham, Gloucestershire permeable surfacing company, Cheltenham resin bond specialist, UK colorful servicing company, best resin bound construction Gloucestershire, and much more.
So thanks a lot for watching guys and if you'd like to inquire today, please just visit our website at www.softsurfaces.co.uk or simply just give us a call at 0165-445-760. Thanks a lot for watching guys and we'll see you guys later.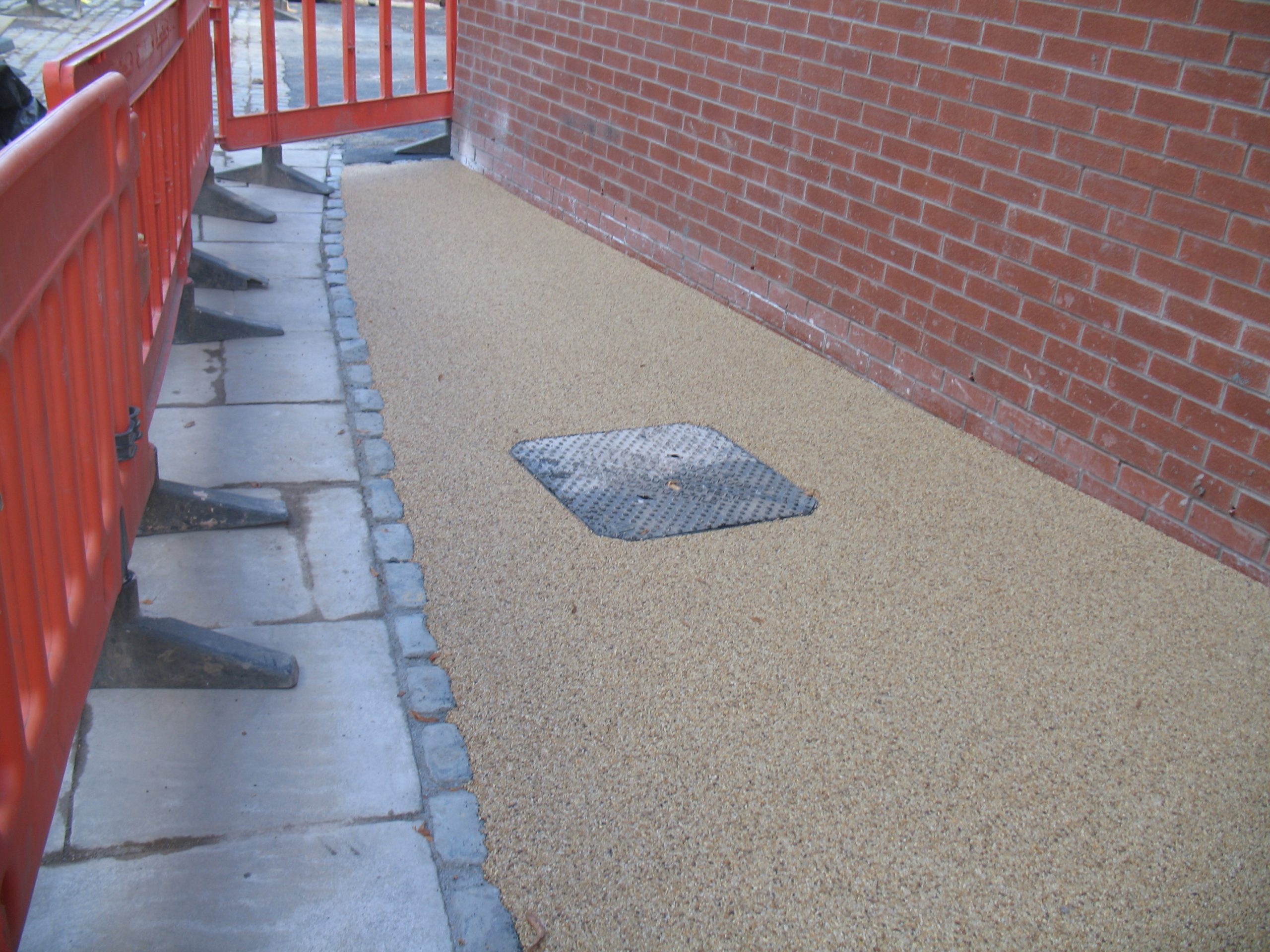 Benefits of Resin Bound Gravel Flooring in Cheltenham, Gloucestershire
Having a resin bound gravel installed in the Cheltenham, Gloucestershire area has many benefits, these include the following:
Slip Resistant
Having a resin bound gravel surface fitted in the Cheltenham area will massively increase the slip resistance of the surface, this is because of the materials used in the resin bound gravel flooring. As a result of this, the surface is considerably safer than many of it's rival, making it an excellent choice for those rainier months of the year.
Long Lasting
Resin bound gravel surfaces are extremely hard working installers and therefore last a long, long time. Whatever the project is you are undergoing in the Cheltenham area, from school pathways to residential driveways, this is an important advantage.
Easy to Clean
Owning a resin bond gravel flooring in Gloucestershire is extremely hassle free, due to how easy the resin bond gravel surfaces are to keep clean and tidy all year round. Simply stay on top of proactive maintenance by removing any dirt and debris
Resin Bound Gravel Applications in Cheltenham
A lot of our clients are often interested in what types of surfaces resin bound gravel can be used for, and the truth is, its an extremely versatile flooring type.
To give some examples, here are some applications that resin bound gravel can be used for in this area:
Resin Bound Gravel Driveways Cheltenham
Resin Bound Gravel Pathways Cheltenham
Resin Bound Gravel Balconies Cheltenham
Resin Bound Gravel Swimming Pool Areas Cheltenham
Why Choose Us?
At Soft Surfaces our team have over 25 years of experience installing resin bound gravel in Cheltenham, as well as across Gloucestershire in general.
The team pride themselves on only using the highest quality materials for our works, and our hard working installers will work relentlessly to ensure your Cheltenham resin bound gravel surface looks brilliant in whatever specification you desire.
Additionally our team can take care of the maintenance of your surface once installed too, making the process of caring for your new resin bound gravel surface a breeze. Feel free to get in touch with us if this is something you would be interested in, and a member of our team will get back to you right away.
Other Gloucestershire Areas we Install Resin Bound Gravel
At Soft Surfaces, we're able to install resin bound gravel surfacing throughout the Gloucestershire area, including the following areas:
Resin Bound Gravel Installation in Kingswood
Resin Bound Gravel Installation in Filton
Resin Bound Gravel Installation in Stroud
Resin Bound Gravel Installation in Yate
Resin Bound Gravel Installation in Tewkesbury
Contact us Today
If you would like resin bound gravel installed in Cheltenham, please make sure to speak to us using the contact form provided.
We can offer information on designs, colours and prices along with advice on preparation works and more.
Thank you for taking a look at our case study, and for any more questions, please get in touch today.
Get expert advice,
today call us on
Get a FREE quote from our award winning team