Resin Bound Gravel Installation
in Wigan, Lancashire

At Soft Surfaces, we're a specialist installer on resin bound gravel surface in Wigan, Lancashire and are able to fit this surface nationwide.
In addition to installation, our team can offer resin bound gravel repair services for existing resin bound gravel surfaces within this location, so if you have currently got a resin bound gravel surface that needs either rejuvenating or resurfacing, feel free to get in touch with us.
For this particular blog post, we show off one of our resin bound gravel installation that we carried out in Wigan, Lancashire.
Below you can see the specific information for this install, as well as the video transcript describing the job in detail.
As always interested in any of our resin bound gravel services we offer throughout Wigan or the entire Lancashire area, feel free to get in touch with us for a free, no obligation quote today.
Resin Bound Gravel Surfacing in Wigan, Lancashire
What was the specification? : 20mm Resin Bound
What colours were used? : Corn Flint
What was the size of the job? : 150m²
How long did the job take?: 2 days on site
What sub base was used? : Open Textured Macadam
Resin Bound Driveway
Please see the video below which shows a resin-bound stone driveway in Wigan. Our resin bound paving installers have completed similar projects throughout the UK.
Video Transcript:
Hi guys, it's Dan here. And today we're going to be showing you a reservoir gravel installation in Wigan Lancashire. As you can see the previous surface was damaged and wasn't particularly safe to walk over the client specified that they wanted to surface to help brighten up the area. Whilst it's showing it was a flat surface, easy to use for walking over and parking cars on. They contacted us and we explained our resin bank, gravel surfacing to them. And it was exactly what the client was looking for.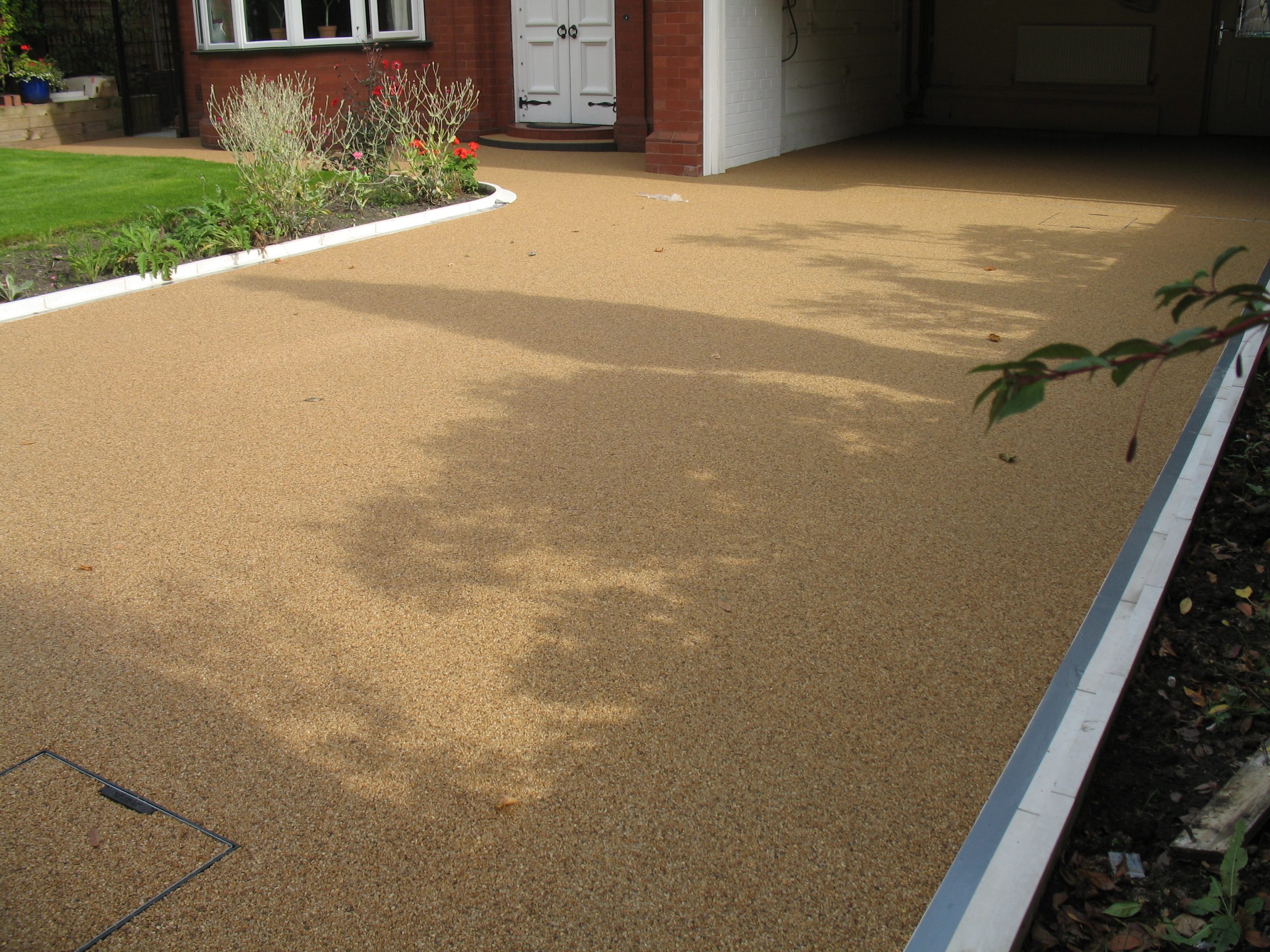 Resin bound is an excellent choice for driveways as this surface gives the appearance of loose stone. However, this surface is bound together to give a completely flat finish. Additionally, resin bound has excellent poorest qualities, meaning it's a lot more resistant to heavy rainfall and flooding. These factors also make it very popular choice for walkways and paths across the United Kingdom.
Another big advantage of this surface type is that resin bound could be specified in an almost endless amount of colours, depending on your preference from natural finishes to extremely bright and colorful specifications. It's totally up to you. We've been installing the surface type nationwide for over two decades now. So for more information regarding our services, please feel free to contact us as you can see now, the job has been completed and the client was absolutely in love with a new surface.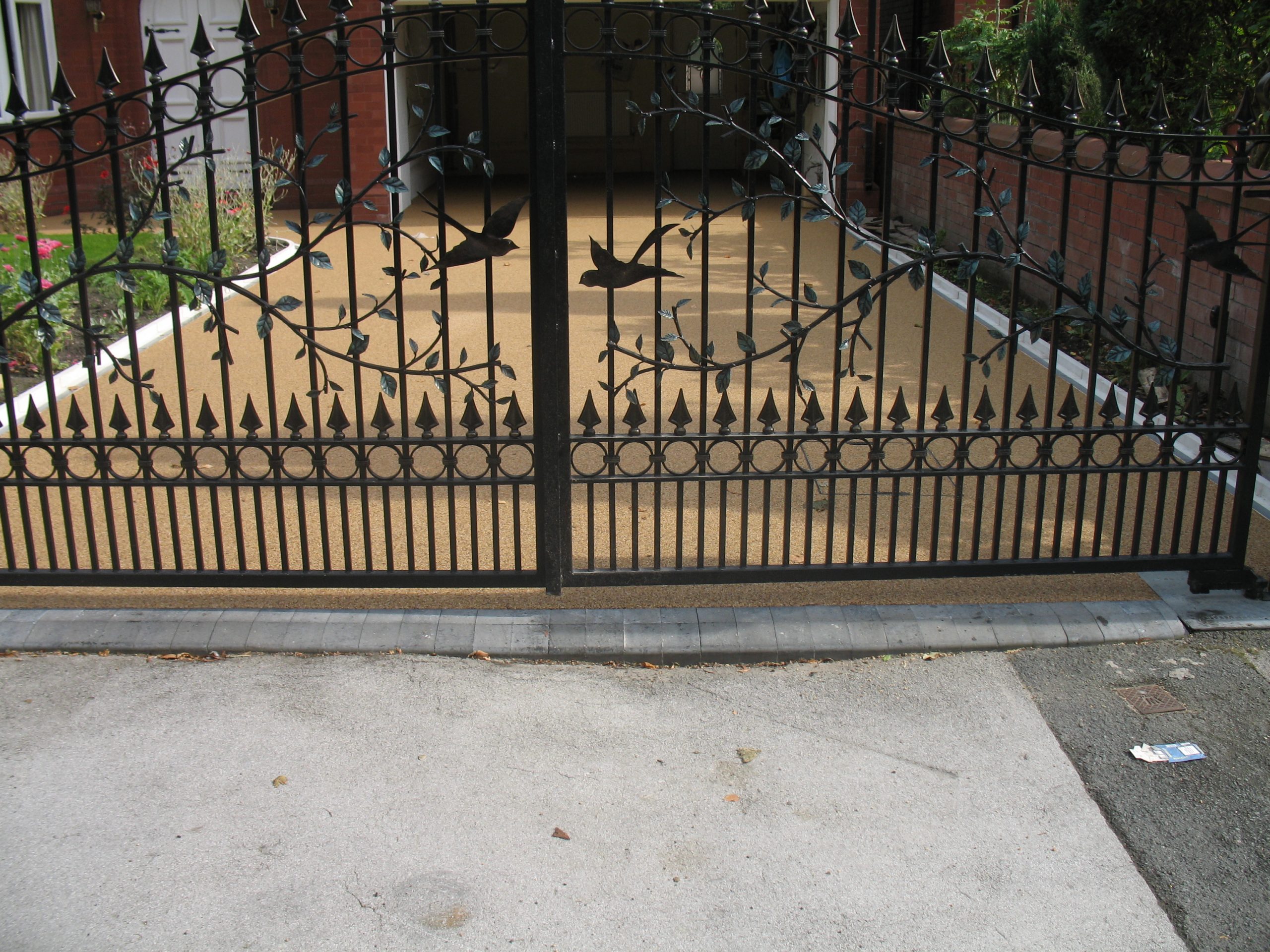 You could see it, they specify this beautiful tan finish, and it really does compliment their home nicely. Our soft surfaces, we have over two decades worth of experience installing this service type nationwide, whoever as we've done a lot of work in the Lancashire area, we rank in Google for these keywords, Wigan smooth stone surfacing company, best driveway, installers, Lancashire specialists in pathway installation, Wigan, Lancashire, Resin bound paving services, hard stone flooring experts, Wigan, and even more. So thanks a lot for watching guys and to contact us today, please just visit https://www.softsurfaces.co.uk, or simply give us a call at 01625 445760.
Benefits of Resin Bound Gravel Surfacing in Wigan, Lancashire
Having a resin bound gravel surface installed in the Wigan, Lancashire area has many benefits, these include the following:
Slip Resistant
Having a resin bound gravel surface installed in the Wigan area will massively increase the slip resistance of the surface, due to the materials that are used to make. This makes the surface a lot safer for our clients and a lot safer than its rivals.
Long Lasting
Resin Bound Gravel surfaces are extremely hard wearing and durable, this is a quality the people of Wigan love because they know they are getting a surface that is cost effective. Clients often worry about having to have the surface replaced due to damage, however with resin bound gravel we guarantee that the surface is long lasting.
Easy to Clean
Owning a resin bound gravel surface in Lancashire is extremely hassle free, due to how easy the resin bound gravel surfaces are to keep clean and maintained all year round. Simply stay on top of proactive maintenance by removing any dirt or debris from the area, and your resin bound floor will look good all year round
Resin Bound Gravel Applications in Wigan
A lot of our clients are often interested in what types of surfacing resin bound gravel can actually be used for, and the truth is, it is an extremely versatile flooring type.
To give some examples, here are some applications that resin bound gravel can be used for in this area:
Resin Bound Gravel Driveways Wigan
Resin Bound Gravel Pathways Wigan
Resin Bound Gravel Courtyards Wigan
and much more.
If there's a specific resin bound surface you are interested in having installed in the Lancashire area, feel free to contact us today, and we'll be more than happy to help.
Why Choose Us?
At Soft Surfaces our team have over 25 years of experience installing Resin Bound Gravel surfacing in Wigan, as well as across Lancashire in general.
The team pride themselves on only using the highest quality materials for our works, and our hard working installers will work relentlessly to ensure your Wigan resin bound gravel surface looks brilliant no matter the specification you desire.
Additionally our team can take of the maintenance of your surface post installation too, making the process of caring for your new resin bound gravel surface a breeze. Feel free to get in touch with us if this is something you would be interested, and a member of our team will get back to you right away.
Other Lancashire Areas we Install Resin Bound Gravel
At Soft Surfaces, we're able to install Resin Bound Gravel Gravel throughout the Lancashire area, including the following areas:
Resin Bound Gravel Installation in Blackpool
Resin Bound Gravel Installation in Blackburn
Resin Bound Gravel Installation in Preston
Resin Bound Gravel Installation in Burnley
Resin Bound Gravel Installation in Bamber Bridge
and any other surrounding areas.
Contact us Today
If you would like resin bound gravel installed in Wigan, Lancashire, please make sure to speak to us using the contact form provided.
We can offer information on designs, colours and prices along with advice on preparation works and more.
Thank you for taking the time to look at our case study, and for any more questions, please make sure to get in touch with us today.
Get expert advice,
today call us on
Get a FREE quote from our award winning team