Astro Turf Sports Pitch
Contractors

There are many sports pitch contractors in the UK who can install 3G all-weather synthetic turf sports facilities but we are premium contractors who help with all aspects of the project ranging from specification, design, pricing, costing, budgets and full installation.
Synthetic All Weather Pitch
Astroturf multi-use games area pitches are designed to be used in all weather conditions and with the addition of sports fencing and sports floodlighting, the surfacing can be used all year round and in the evenings – increasing revenue from the facility. Artificial grass surfaces can be installed by sports pitch contractors in a range of different specifications and designs which each provide excellent playing characteristics for a multitude of sports. Some examples of the synthetic grass sports surfacing options we install include:
2G Sand Filled/Sand Dressed Synthetic Turf – This has a layer of sand infill installed within the artificial turf fibres to help provide a stable playing surface. 2G surfacing is ideal for hockey and football as it allows the ball to glide smoothly across the surface of the pitch.
3G Artificial Grass – The most advanced synthetic turf sport surfacing specification. When we carry out 3G pitch construction, our 3G surfacing is infilled with rubber particles by sports pitch contractors to provide natural playing characteristics. It is designed for sports like football, rugby and hockey as the surfacing is normally a minimum of 40mm thick, can take a stud and is designed to look and feel like playing on natural grass.
Needlepunch Artificial Turf – This has become increasingly popular for multi-use games areas and athletics tracks and can be installed in a range of colours. The fibre bonded material creates a durable and long-lasting sports facility for schools and sports clubs.
As sports pitch contractors, we can help you customise every aspect of the installation process for your new sports facility. You can choose from a range of surfacing specifications to ensure you get the perfect performance characteristics for the primary sports you want to play. The type of sports pitch can also be designed and constructed to suit most area sizes and dimensions to fit in with the existing space you have available. You can also choose to have extra equipment installed like floodlighting and fencing to keep your new sports facility secure and to give you the opportunity to rent it out at weekends and in the evenings for training and matches.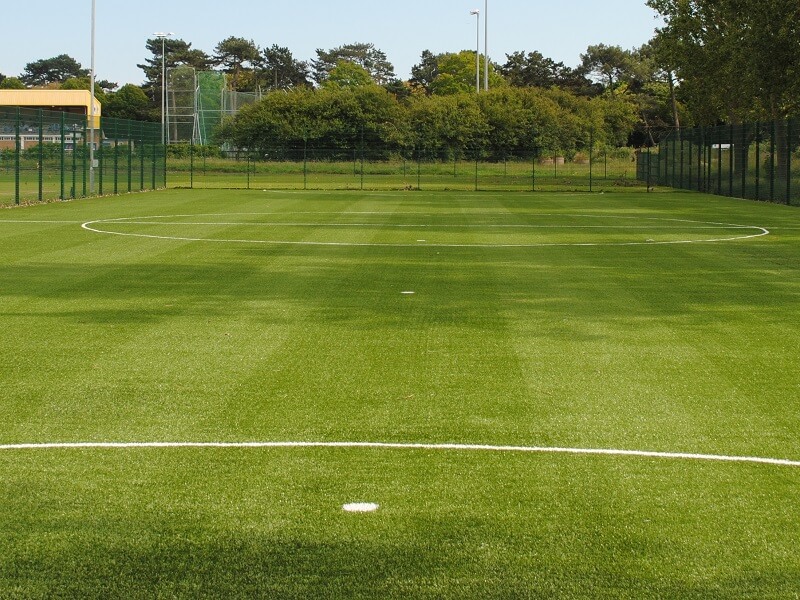 Specialist Sports Pitch Contractors
Our aim is to provide top qualities sports facilities for schools, colleges, clubs and leisure centres throughout the UK to help promote healthy lifestyles and get kids into a variety of different sports. As specialist sports pitch contractors we are committed to offering the best quality products and services at great value prices which can be tailored to fit different budget requirements for each project.
We have a wealth of knowledge and experience in the sport surfacing installation industry and we have carried out projects at schools, clubs and leisure centres all over the UK. Our friendly staff will be happy to help you with any sport surfacing enquiries you may have regarding specifications, construction and maintenance so please fill in our contact form if you would like to discuss this in more detail. For more information about all the products and services, we have to offer, visit our website where you can find details of our previous work.
Did you think this post was interesting? What would be your primary sports if you were going to install a new all-weather facility?
Tell us your thoughts and don't forget to share this post, thanks!
Get expert advice,
today call us on
Get a FREE quote from our award winning team