Athletics Track
Surfacing

There are a number of athletics track surfacing types to choose from whether you're installing a full sized 400m running facility or a smaller area like a long jump runway or high jump fan. Each of the surface types that we install can come in a number of colours with designs and line markings for each individual event.
Athletic Track Surface Types
The two main athletic track surface types that we specialise in are:
EPDM Polymeric Rubber – This surface is made up of rubber granules that are mixed in with a binder and then spread out on top of a macadam sub base. The rubber comes in a range of colours and can have line markings spray painted on for each different athletics event. Many high schools, colleges and clubs have the polymeric specification installed because it offers a more professional quality of surfacing for sprint tracks and long jump runways.
Needlepunch Synthetic Carpet – This is an artificial turf product which is fibre bonded with a tight yarn and has a layer of sand installed within the pile for stability. Because it gives a softer and more impact absorbing texture, the needlepunch grass is often chosen by primary schools for recreational sport facilities. This carpet can also come in a range of bright colours. Many organisations opt to have rainbow and striped designs installed.
Both of these athletics flooring types can be constructed to various specifications and area sizes so you can fully customise your facility and ensure it meets the needs of those who will be using it, whether it's for recreational use of professional training and competitive events. Contact us today using the quick enquiry form and we'll be able to give you some professional advice. We'll also provide product sheets and a price quote for the work
We can speak to our clients regarding the surfacing types available and find out about their spending budget to check whether they can afford a particular surface of not. If you would like to get in touch with our specialists for advice regarding the best flooring type to have installed, please complete the contact box on this page and we will reply as soon as possible.
Running Tracks Surfaces
A lot of schools and clubs throughout the UK choose to have sports track surfaces installed because of the wide array of designs and uses they can have. The polymeric athletics surfacing can come in either a structural spray design or a sandwich system. The one you choose will depend on your budget and the use that the facility is going to get.
We can install both of these specifications onto a macadam sub base. They provide great performance qualities for a range of different events. Some of the most popular include sprints, long-distance races and hurdles. The needlepunch synthetic turf design is a popular choice for running lane surfaces and long jump facilities in primary schools and recreational sports tracks. As a durable and versatile specification, needlepunch is also used for multi-use games areas in schools throughout the UK.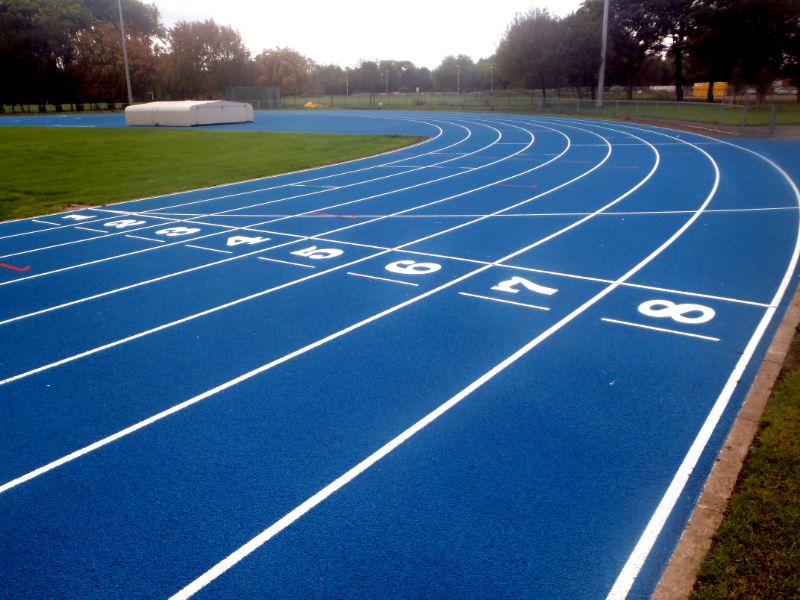 If you need any more information on athletics facility surfacing or you're interested in having a new running track installed, please feel free to get in touch with us through our contact form. One of our team members will get back to you with some designs options. We'll also be able to provide a quote for the work. Make sure you include area size, project location, and an idea of work you'd like us to carry out.
Athletics Surface Options
There are two main athletics surface options: needlepunch and polymeric. Our teams often install these in educational facilities, clubs and leisure centres. Polymeric rubber along with needlepunch fibre bonded surfacing is often fitted for areas including running tracks, long jump, triple jump facilities and even high jumps.
These kinds of surfacing variations could be line marked that allows for multi-use games to be completed. Polymeric rubber surfaces are ideal for specialist sporting clubs and for competitive events. To create the Type 3 polymeric MUGA surfacing, EPDM rubber granules will be combined with the binder and then placed on the tarmac sub base.
Our team will fit each specification easily when using polymeric rubber surfacing. We can install it in a selection of diverse levels, sizes and shapes. For high jump runways, we'll usually position a semi-circle shape in this surfacing. This kind of structure is perfect for completing your run-up.
Multi-sport artificial turf is a fibre bonded carpet surface, and that is long-lasting and hard-wearing. We often install the needlepunch in a wide variety of varied designs and colours. The fibres in the needlepunch will stay upright with the installation of sand infill; which enables you to boost the playing characteristics for the surfacing.
Athletics Facility Surfacing
Needlepunch provides a smoother landing for long jumps and triple jumps. This means it is a lot safer for children to use it in school. It is essential to have specialists install the athletics runway. This will make certain that the runway complies with the necessary requirements. If you have a polymeric rubber surface, we supply removable take off boards. We also include triple jump sand pit rubber edges to help enhance safety. The landing pit of your facility should contain specialist silica sand. It also needs to have a suitable perimeter edging material. Your long jump and triple jump runways will need minor servicing once built.
To maintain the athletics facility surfacing and keep it in good condition, you will need to carry out regular cleaning. This should be done if any dirt or grime appears. Cleaning this surface will stop contaminants from appearing and causing problems. It is possible to install landing area covers, this will help to keep your sand clean when not in use. An athletic track maintenance approach is really important in order to avoid any problems of contaminants occurring which may contribute to safety risks.
Our professionals can provide an entire upkeep and cleaning service. The dimensions of your surface, location and work required are all issues that could impact the price of maintenance. We recommend an upkeep service program in order to keep the surface in top condition. This can also help to lengthen the lifespan of the surface facility.
Get In Touch
If you would like to find out more about athletics track surfacing, please contact our team today using the enquiry form provided. As soon as we receive the enquiry we will get back to you with answers to all of your questions.
Get expert advice,
today call us on
Get a FREE quote from our award winning team