Athletics Track
Maintenance

With any type of sport surface, it is necessary to carry out regular cleaning and be proactive with a maintenance plan. Athletics track maintenance is vital and cleaning should be done regularly as this will keep the facility in the best possible condition and also ensure that it's a safe surface for those who use it.
Maintaining Athletic Facilities
The proactive athletics tracks maintenance techniques include sweeping, brushing, removing dirt, leaves and litter. You can also apply chemical treatments to prevent contamination. Applying chemical treatments, as part of a regular plan can remove moss and algae and also stop the growth upon the surface. This can make the flooring less likely to need reactive work and cut down the athletics surface maintenance costs.
If you want to keep your facility's sports track within the best condition and want to prevent the need for renovations, then you need to keep on top of cleaning and stick to the plan. For help and advice on cleaning your facility, send us your details through our quick contact form. Our team have plenty of experience in dealing with a range of maintenance works. We would be happy to offer you an idea of costs for cleaning or repairs to your running track.
We provide a number of repairs and maintenance works for athletic facilities. This includes long jumps, running tracks and high jump areas. If you'd like to speak to one of our team members regarding the process of maintaining athletic facilities, please contact us now using the enquiry form.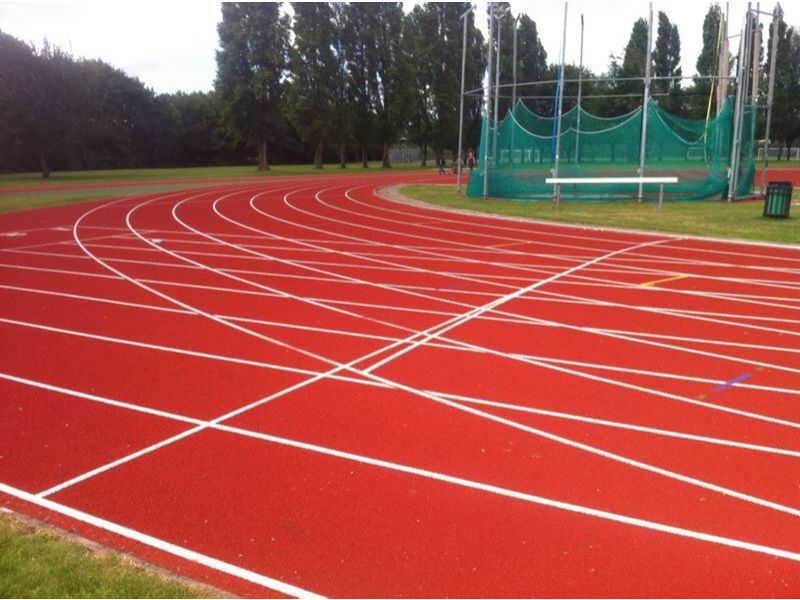 There are two types of procedures: proactive and reactive maintenance. Proactive work is done to prevent damage and reactive methods are carried out when the damage has happened and this normally includes repairing surfaces. The servicing required will depend upon the type of athletics surface you have and its condition with regards to any damage or problems.
We may offer details on what you can do to maintain the surfacing and how you can carry out upkeep servicing works. We will give you information on how to extend the life of the facility, so please do not hesitate to contact us now.
Once long jump runways and other athletic facilities are built, low maintenance is required. To help keep the flooring in great condition, if any dirt appears you must remove it to prevent contamination. Sand pit covers have a plastic sheet and metal rods at the edges to keep it in place – this helps to keep the sand clean. To ensure the runway is safe, you should have a regular cleaning schedule. This is important so that users, particularly young children, are safe when using the area.
The whole cleaning service which we offer can also help to help keep your facility appearing brand-new. The dimensions of your surface, location and amount of work needed can all affect the price for these services. We encourage an upkeep schedule in order to keep the facility in the best possible condition. This also helps to lengthen the lifetime of the surfacing. If you have a run up facility with a sand pit, you can use a long jump sand pit rake to keep this area clean and free from dirt.
We are experts when it comes to maintaining athletics runways and we offer great prices for the maintenance services. Our team can provide expert advice on how to care for the runway. We'll also offer details on what you should do in the event of any damages. If you'd like more information regarding the maintenance and repairs we complete, do not hesitate to contact us now.
Running Tracks Cleaning
Cleaning of running tracks involves a range of methods and procedures and it varies on the different sizes and dimensions of your facility. We can complete running tracks cleaning at affordable prices to a top standard. Athletics surfaces can sustain damage when they have a lot of use and don't get regular maintenance. This can lead to the surfacing needing repairs to restore the original qualities.
If you want to avoid having to carry out reactive work, such as resurfacing, retexturing, rejuvenations or applying new line markings, then you should make sure you regularly clean the surface. We also complete repairs for other sports surfaces, click here – https://www.softsurfaces.co.uk/sports-facility-maintenance/ to find out about cleaning and repairs we could do for multi use games areas, tennis courts, football pitches and more.
Below you can see one of our athletics track maintenance projects where we repaired a facility which had become damaged. This was a polymeric rubber surface which required repairs and respraying of the textured finish.
Athletics Maintenance Company
We are a professional athletics maintenance company who can offer great value for money. If you do have a sports surface which is in desperate need of repairing or fixing, don't worry. We provide a number of repair services but you should do this as quickly as you can to prevent further damage.
It is necessary to have professionals carry out running track services, this is because they will have experience and a range of knowledge with regards to exactly what type of service needs to be carried out. The surfaces should be IAAF approved, as this will provide high quality surfaces for clubs to use for training and for competitive use.
Professional companies and contractors can advise and offer care on the sport facilities which need them. If a running surface becomes worn out due to the amount of heavy use it can be unsafe to use. This is because it could have rips and tears within the track which could make athletes trip. This is a clear hazard which can arise from having a damaged or dirty running track facility so it's important to fix any problems with track maintenance as soon as possible and keep on top of your plan throughout the year.
Get In Touch
We are experts within the construction and upkeep of various sporting facilities and our team have worked on many projects. These services can be offered for schools, sports clubs, leisure centres and many other facilities, and we will put together a bespoke quote for you. The prices will depend on what you require for the project but we will do our best to stick to your budget.
If you need any advice on athletics track maintenance or repairs, please send us over your details through our contact from. Then we'll be able to assist you with your enquiry. Our professional staff can offer advice and price estimates for cleaning and maintaining your running track surface. Don't hesitate to get in touch with us as soon as possible.
Get expert advice,
today call us on
Get a FREE quote from our award winning team