Polymeric Long Jump Pit Installation
in Liverpool, Merseyside

At Soft Surfaces, we're a specialist installer on polymeric long jump pits in Liverpool, Merseyside and are able to fit this surface across the entire Merseyside area.
In addition to installations, our team can offer polymeric long jump pit repair services for existing polymeric long jump pit within this location, so if you currently have a polymeric long jump pit surface that needs either resurfacing or rejuvenating, feel free to get in touch with us.
For this particular blog post, we show off one of our polymeric long jump put installations that we carried out in Liverpool, Merseyside.
Below you can see the specific information for this install, as well as the video transcript describing the job in detail.
As always if you are interested in any of our polymeric long jump pit services that we offer throughout Liverpool or the entire Merseyside area, feel free to get in touch with us for a free, no obligation quote today.
Polymeric Long Jump Pit Installation in Liverpool, Merseyside
What was the specification? : 15mm EPDM Polymeric
What colours were used? : Terracotta red (running track red)
What was the size of the job? : 110m2
How long did the job take?: 3 days on site
What sub base was used? : Open Textured macadam
Long Jump Runway
The video below shows the installation of a polymeric long jump surface in Liverpool, Merseyside.
This is fully equipt with landing pit, cover, rubber edges, concrete mowing strip and white take off lines.
Video Transcript:
Hi guys, it's Dan here. And today I'm going to be showing you a polymeric long jump pit installation that we carried out in Liverpool mercy side. So originally the client had a large open field on which they wanted to have their laundry installed. After a conversation on the phone, we explained how a polymeric long jump runway could really suit them.
Surely after we were on site carrying out the installation of both the runway and the long jump pit. So polymeric surfacing is the perfect choice for long jump runways. As this surface offers excellent qualities for athletics due to its rubber surfacing. This makes it excellent to run across and use for this particular sport.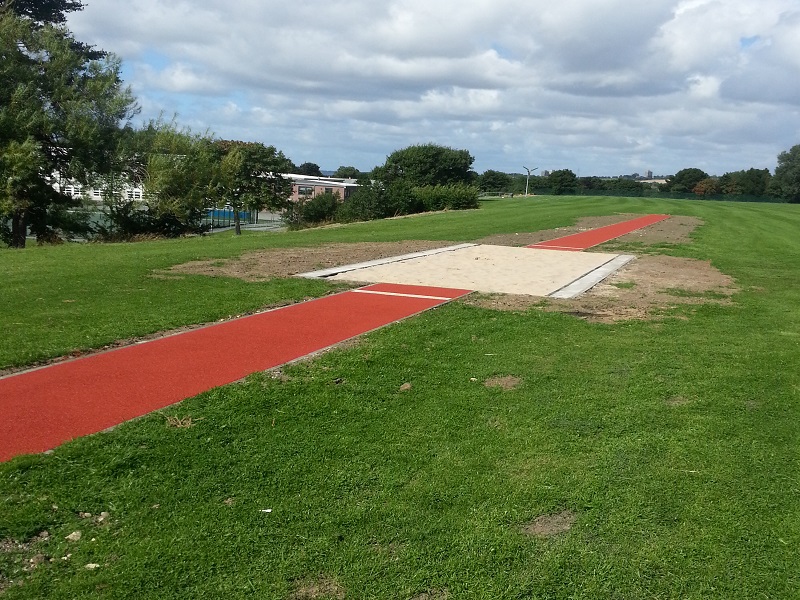 Additionally polymetric is fantastic as it's able to be installed in a massive variety of colours, including multicolour finishes. This is great for those looking to ensure the new surface complements its surroundings for this particular job. You can see that we're installing the long jump pit too, which like installing long jump runways is a service we have over 20 years of experience carrying out all across the country. There really is no job too big or too small for us nationwide. So if you're interested, please don't hesitate to contact us. You can see now from the photo that the job has been completed and it looks awesome situated on their large field.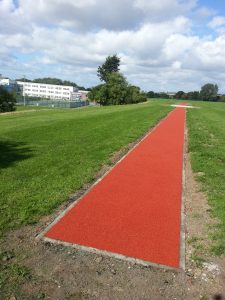 Polymeric Long Jump Pit Installation in Liverpool, Merseyside
The client was so happy with the quality of the work that we carried out, as well as the quality of the actual project and truly love their new laundry facility. Once we do work up and down the country here at soft surfaces, we have completed lots of work in the Merseyside area and because of this we're ranking Google for the following keywords, polymeric long jump specialist, Merseyside Liverpool polymetric athletic surfacing, best Merseyside side, rubber long jump flooring, rubber polymetric triple jump installers, Liverpool, EPD, and rubber crumb, long jump Mersey side and much more.
So thanks a lot for watching guys. To contact us today. Please just visit https://www.softsurfaces.co.uk, or simply give us a call on 01625 445 760.
Benefits of Polymeric Long Jump Pit in Liverpool, Merseyside
Having a polymeric long jump put installed in the Liverpool, Merseyside area has many benefits, these include the following:
All Weather Surface
Polymeric surfaces can be used all year round, which is great for schools because teachers are still able to carry out P.E. lessons in the winter months without worrying about the children being injured and hurt.
Anti-Slip Finish
Having a polymeric surface installed in Cheadle as opposed to another surface will massively increase the slip resistance of the surface, due to the finish that is applied to the surface. As a result of this, the surface will be considerably safer than many of its competitors, this also makes polymeric a great all weather surface.
Customisable Options
Polymeric surfaces have a lot of options, this allows you to express your creativity. This is very appealing to schools because it allows them to create a vibrant sports court or long jump that will massively stand out to new and existing students.
Why Choose Us?
At Soft Surfaces our team have over 25 years of experience installing polymeric long jump pit installations in Liverpool, as well as across Merseyside in general.
The team pride themselves on only using the highest quality materials for our works, and our hard working installers will relentlessly to ensure your Liverpool polymeric long jump pit surface looks brilliant no matter the specification you desire.
Additionally our team can take care of the maintenance of your surface once installed too, making the process of caring for your new polymeric long jump pit surface a breeze. Feel free to get in touch with us if this is something you would be interested in, and a member of our team will get back to you right away.
Contact us Today
If you would like a polymeric long jump pit installation in Liverpool, please make sure to us using the contact form provided.
We can offer more information on designs, colours and prices along with advice on preparation works and more.
Thank you for taking the time to look at our case study, and for any more questions, please get in touch today.
Get expert advice,
today call us on
Get a FREE quote from our award winning team