Athletics Surfacing
Specification Options

If you are looking for the best athletics surfacing specification for your facility, we offer a number of choices. Schools, colleges and sports clubs across the UK are embracing athletics and getting kids into participating in a whole host of different sporting events. Some of these include long jump, triple jump and sprinting.
The popularity of these athletic events means there is a greater demand for top-quality sports facilities, and the athletic facility needs to give great performance qualities as well as being safe. So what sports facility would be the best for your school or organisation? Let's take a look at some different athletics surfacing specifications.
Athletics Running Tracks
A typical athletics track is made of rubber crumb with a polyurethane binder, and these can come in a range of specifications that are put together in slightly different ways to suit individual requirements and budgets, for example, full EPDM or structural spray polymeric.
These running track facilities can be installed in a range of dimensions to suit the individual size and shape of the area that you have available. We can also apply professional line marking to the surfacing to ensure perfect accuracy when recording race results. Running tracks can be used for a multitude of events from 100m sprinting to more long-distance running races.
Although EPDM rubber is a very popular choice for athletics running tracks, a lot of primary schools have chosen to install Multisport artificial grass athletics surfacing instead. This is a softer surface for younger kids to run on and a great alternative to the traditional hard rubber tracks which are more suited to professional athletes and older children.
For more details on the different athletics surfacing specification options, please get in touch with us today. Just complete the contact box on this page to let us know what you are looking for, and we'll reply back as soon as we can. You can also check out this page for more details on the most common designs for schools.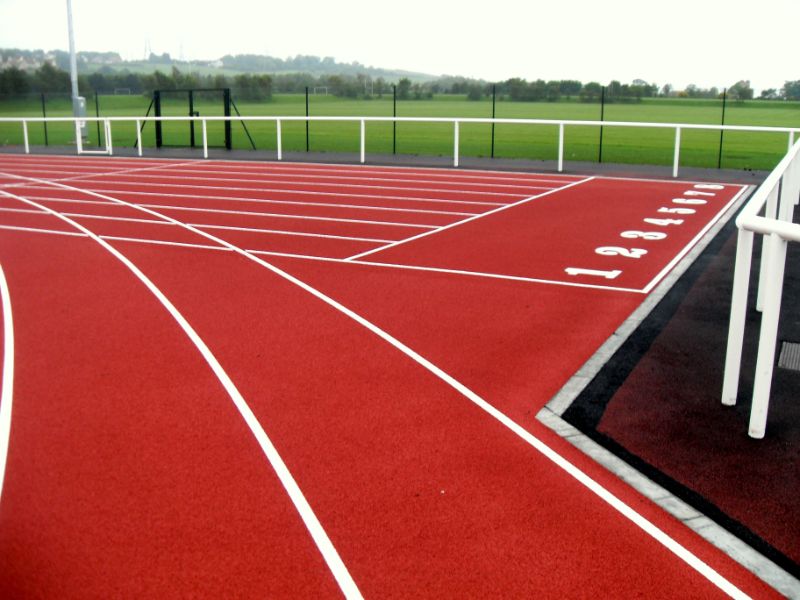 Long Jump and Triple Jump
Long jump and triple jump are great athletic events for kids to get into as they are a bit more interesting than just the traditional running events. Runway surfacing for these events can be constructed by sport surfacing contractors from the same materials as running tracks (EPDM rubber or Multisport artificial grass). They can also come in different dimensions and specifications depending on the requirements of your organisation.
It is also important to have a good quality sandpit installed with your long-jump runway surface to keep it as safe as possible, this will provide a soft area for the athlete to land on once they have completed their jump.
You could also improve the safety of your athletics facility by installing long jump and triple jump sand pit rubber safety edges which provide more absorption of impact from trips or falls than the traditional precast concrete (PCC) edges. These extra safety precautions are highly recommended, in particular for facilities where younger children are going to be taking part in events.
Compact Athletics Facilities
A number of clubs in addition to academic institutions have begun to get more cost-effective features constructed for sports and athletics. Many schools and colleges are finding it difficult to renew their sports facilities for a number of events, meaning that youngsters are unable to take part in these types of sports.
This may be due to a limited spending budget or not a sufficient amount of outdoor space for the institution to build on. The athletics surfacing specification may be changed to suit distinct spending budgets and requirements. FUNdamental skills may also be developed with the help of these compact activities, since children could enhance their running, throwing and even jumping.
School Sports Provision
By setting up different athletics facilities, youngsters can take part in numerous activities for a more diverse experience. Several of the widely chosen facilities include things like shuttle running tracks, discus areas and also jogging tracks. You can create multiple activity areas by building a single track; this can be utilised for long jump, relay races, hurdles and many more.
These then promote health and activity for children by allowing them to take part in many different events. In schools that can't have a full-sized track, this makes a fantastic alternative that is more affordable and takes up a lot less room. If someone completely enjoys performing a certain activity just like triple jump or throwing, then they could advance to specialist clubs within the United Kingdom. An important deficiency in existing athletics provision is a lack of developing facilities for beginners and young people at the first stages of the athlete enhancement model. Many experts recommend that these sporting activities need to be available for kids from as small as primary school Key Stage 1 and up to high school.
A new athletics model has been made by UKA, allowing small children to gain access to these areas. This gives a cost-effective, versatile, entry-level option that makes use of pleasing designs and colours meant to attract new participants.
Cost-Effective Designs
For establishments with a low spending budget together with outdoor space, the compact athletics facilities produce an ideal option for training basic FUNdamental skills in a range of sports activities. A number of establishments decide to get long jump runways and high-jump fans within their compact sports facility.
Where there's a shortage of space, we are able to reduce the size of sports facilities and alter the athletic surfacing specifications. The flexibility of the style of smaller facilities ensures that they are related to a wide range of situations. Colleges, universities, primary schools and also secondary schools may set up these to complement existing sport and play provisions.
By participating in different sports and athletics activities, young people from Key Stage one to Key Stage four all can build up learning and fitness abilities. Many more children will want to take part in the new sporting activities if there is top quality and appealing facility accessible for them to utilize.
If a school or college is seeking a much more cost-effective beginners level product, the compact facilities are fantastic for decreasing expenses in the event you only need a recreational space. Compact features help introduce the FUNdamentals of these sports. Therefore children can build on primary skills of movement and also physical activity.
Athletic Surfacing Installers
Soft Surfaces Ltd are a leading installer of athletic facilities and other sports and play surfacing products. We can ensure that you get the best quality sports surface for your school or organisation. We can also offer you help with funds for your project through a funding grant or finance plan to help spread the cost, you can search the funding grants website to see if you're eligible to apply for a grant and find one that's appropriate for you.
If you would like any further information about athletics surfacing specifications or any other sports or play facility products and services, please visit our website at https://www.softsurfaces.co.uk/ and you can see examples of projects we have completed. To submit an enquiry, please fill in the contact form and we will get back to you with details of quotes and prices for your sports or play surfacing project.
To see more pictures of these athletic tracks, have a look at our Soft Surfaces Pinterest page where you can browse through examples of other sport surfacing projects we have carried out.
Did you find this article helpful? Are you more informed about athletics surfacing specification options? Please leave us a comment and let us know, and don't forget to share this post!
Get expert advice,
today call us on
Get a FREE quote from our award winning team