Wetpour and Artificial Grass
in Fulbourn, Cambridge

At Soft Surfaces, we're a specialist installer on wetpour and artificial surfacing in Fulbourn, Cambridge and are able to fit this surface nationwide.
In addition to installations, our team can offer wetpour and artificial repair services for existing wetpour and artificial within this location, so if you have currently got a wetpour or artificial grass surfacing that needs either resurfacing or rejuvenating, feel free to get in touch with us.
For this particular blog post, we show off one of our wetpour and artificial grass installations that we carried out in Fulbourn, Cambridge.
Below you can see the specific information for this install, as well as the video transcript describing the job in detail.
As always, if you are interested in any of our wetpour and artificial grass services we offer throughout Fulbourn or the entire Cambridge area, feel free to get in touch with us for a free, no obligation quote today.
Wetpour and Artificial Grass Surfacing in Fulbourn, Cambridge Case Study
What was the specification? : 40mm wetpour in colour and artificial grass
What colours were used? : Green, Red and Purple.
What was the size of the job? : 261m²
How long did the job take?: 4 days on site
What sub base was used? : MOT Type 1 Stone
Playground Design
Please see the video below which shows a playground design including wetpour and artificial grass. This includes installing over mounds formed in concrete.
Please see video transcript below:
00:02 Hi, you guys. This is Dan form Soft Surfaces here, and on this video, we're going to be showing you a wetpour and artificial grass surfacing at a primary school in Fulbourn.
00:09 Initially, here's the groundworks and preparation that we carried out. We're essentially removing the existing surface ready for the new one to be fitted.
00:15 As you can see from this photo here, from this mound, it's very worn out, so what we then did is actually give that a respray and kind of freshen it up and give it a new lease of life, as you can see from these photos here.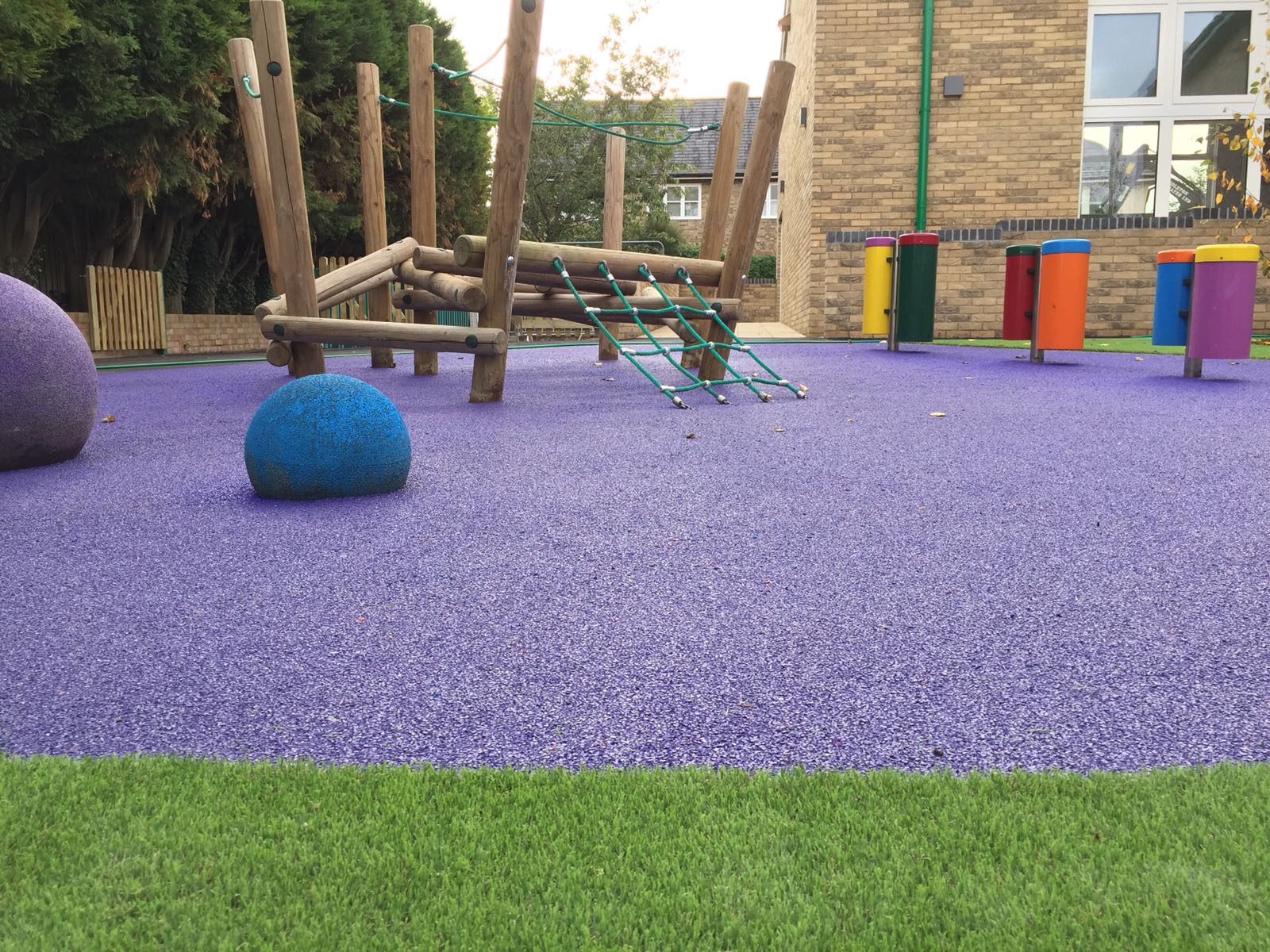 00:23 Next up, we actually install the SBR base course, which is actually the surface that goes underneath the wetpour to be fitted. You can see that being applied to the playground area there.
00:32 Then we proceed to lay down the artificial grass around the play area. This is quite a big job. There's lots of little patches that we're doing. Our team are actually filling that with the artificial grass there on the photos.
00:40 And then finally with the wetpour down, here's the completed project. As you can see, it looks really, really great. They opted for a purple wetpour, which is customisable. You're able to choose many different colors to pick from for your surface type, and they were very happy with this installation too.
00:51 From working across the United Kingdom on many different jobs we actually rank in Google for these keywords: "UK playground and fake grass company," "synthetic turf installers for my school," "play area safety surfacing for nurseries," "soft playground flooring for kids," "artificial turf for schools in the United Kingdom," and even more than that.
01:12 So if you'd like to know more about the prices or specifications of our work please just find our website in the description of this video.
01:18 Thanks for watching, guys, and we hope to hear from you soon.
Why Choose Us?
At Soft Surfaces we have over 25 years of experience installing wetpour and artificial grass surfacing in Fulbourn, as well as across Cambridge in general.
The team pride themselves on only using the highest quality materials for our works, and our hard working installers will work relentlessly to ensure your Fulbourn wetpour and artificial grass surface looks brilliant no mater he specification you desire.
Additionally our team can take care of the maintenance of your surface post installation too, making the process of caring for your new surface a breeze. Feel free to get in touch with us if this is something you would be interested in, and a member of our team will get back to you right away.
Other Cambridge Areas we Install Wetpour and Artificial Grass
At Soft Surfaces, we're able to install wetpour and artificial grass surfacing throughout the Cambridge area, including the following:
Wetpour and Artificial Grass Installation in Peterborough
Wetpour and Artificial Grass Installation in Wisbech
Wetpour and Artificial Grass Installation in St Neots
Wetpour and Artificial Grass Installation in Huntingdon
Wetpour and Artificial Grass Installation in March
and any other surrounding area.
Contact us Today
If you would like wetpour and artificial grass installed in Fulbourn, please make sure to speak to us using the contact form provided.
We can offer more information on designs, colours and prices along with advice on preparation works and more.
Thank you for taking the time to look at our case study, and for any more question, please get in touch.
Get expert advice,
today call us on
Get a FREE quote from our award winning team