Acrylic Sports Court Spraying
Anti Slip Paint Surface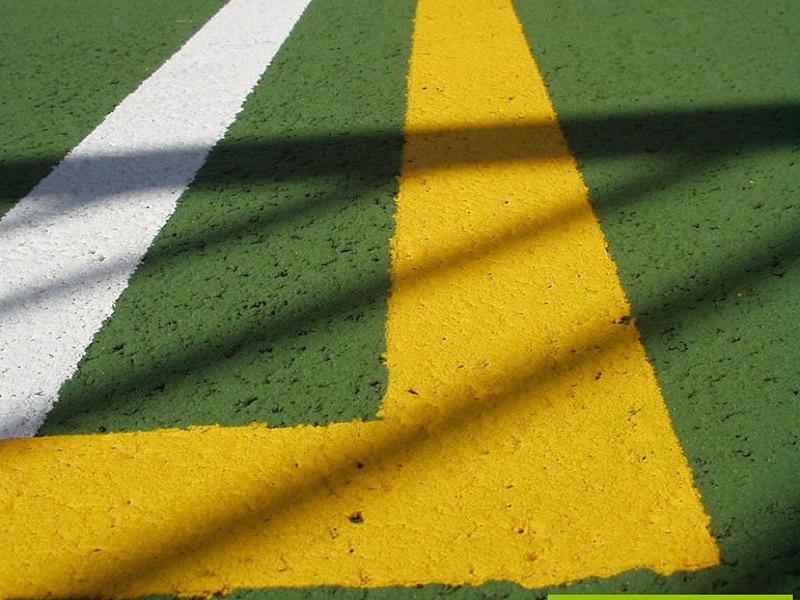 Acrylic Sports Court Spraying Anti Slip Paint Surface is installed onto macadam type 1 and type 2 MUGAs throughout the UK. The acrylic anti slip paint is available is a selection of colours and the most common are red, blue and green. The coatings are applied by our specialist team, and we aim to make the process as efficient and cost effective as possible for you.
Our team can apply these spray coatings to various sports facilities. We have worked at many leisure centres, schools and colleges to improve the appearance and functionality of sports courts. Adding the non slip coat improves grip and makes it safer for players running around on the surface. It also brightens up the facility as we offer a selection of colours for you to choose from. You could have a single colour or opt for a two tone design depending on your preference.
Ball Courts
The ball courts, which are often used for sports such as Basketball, Tennis and Football, can be built to suit almost any size, specification and budget, have these coatings applied to help them achieve TRRL ratings of 60 and 75. Their macadam surface which does not have the anti-slip coating applied is known as a Type 1 MUGA. You can also have a Synthetic All Weather Artificial Grass surface and an EPDM: Polymeric Surface MUGA. These types of acrylic anti-slip coatings and MUGA surfacing is often found in building specifications – Q26 and many of these surfaces have game line markings installed with the same type of anti-slip coatings.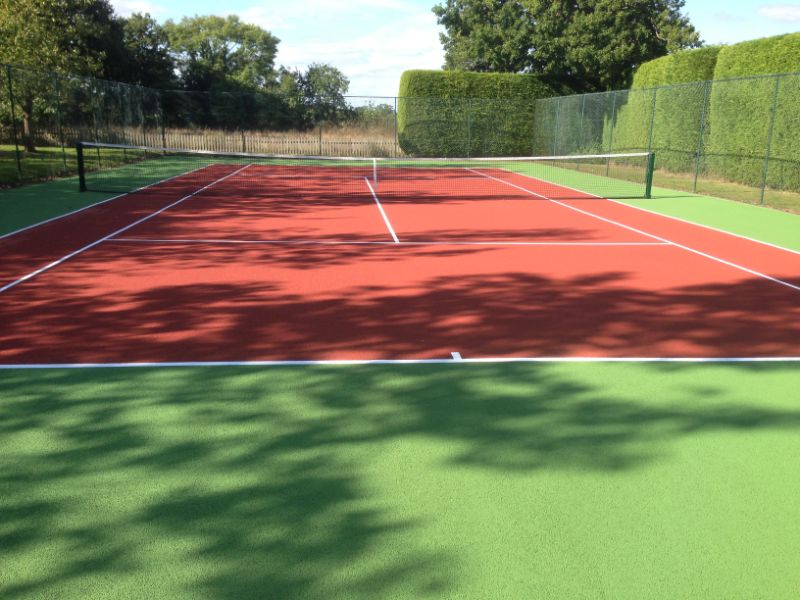 MUGA Court Anti Slip Paint
One of the most common sporting facilities which we install this paint is a MUGA court surface. This is also known as a multi-use games area as you can play a number of sports in the same place. As well as spraying the whole area in an acrylic sports court paint in the colour of your choice, we also apply line-markings. These can be done for whichever sports you want to play, the ones we generally apply will be:
Tennis
Netball
Basketball
Football
The multi-use games area is an ideal sports court where space is limited for the children and kids to play. In the UK many old tennis courts are being refurbished into these multi-use facilities. People do this to make the most out of the sports facility as it can be used much more. Often these will have sport rebound fencing to the perimeter with recessed goals and basketball hoops.
Applying the Acrylic Coating
The acrylic sports colour coating is applied by an airless spray in two coats. We apply it in different directions to get the whole court surface covered completely. After several years a flash coat or a resurfacing can be applied to make these like new again. We offer a range of sports facility maintenance services to help with this if you require a repair.
Take a look at the video below to see one of our projects where our team painted a sports court. The existing facility was a dull tarmac surface with fading line-markings. We painted over the whole area in vibrant orange colour and added white and yellow line markings for different sports.
As you can see the whole area was transformed and now has a much more exciting look. It also functions better as a sporting facility as the non-slip paint adds grip and creates better traction.
If you have any questions about these services don't hesitate to get in touch with us. We have worked around the UK with various clients to complete this work.
The prices can vary depending on location, area size and chosen design for the surfacing. We advise contacting us to speak with one of our experts and get a quote for the work today.
Get expert advice,
today call us on
Get a FREE quote from our award winning team