Tennis Court Construction

Here at Soft Surfaces Ltd, we're a professional tennis court construction company working throughout the United Kingdom, specialising in tennis court installation for both domestic and commercial clients nationwide.
As tennis court surfacing contractors with over 20 years of experience, we take pride in the work we carry out across the UK. Our team can help you every step of the way, from the initial enquiry all the way to having your brand new tennis facility installed.
Specialist Tennis Court Construction Company
We understand that looking for the right company to construct your new tennis facility can seem daunting, however here at Soft Surfaces, we're here to put your mind and ease with our expert services.
As one of the most reputable companies in the tennis court construction industry, our sole aim is to make the entire tennis court construction process as easy and as possible for our clients.
Whether you know the exact type of tennis court you require, or have questions regarding the details of the installation and specification of your new tennis court, we're here to help.
Tennis Court Surfacing
Our team are able to take care of the entire tennis court surfacing installation for you, and have plenty of options available to you. The tennis court surfaces we construct are:
Macadam Tennis Court Construction
Polymeric Tennis Court Construction
Sand Filled Tennis Court Construction
Artificial Grass Tennis Court Construction
The cost for these different tennis court surfaces can vary, so it's worth discussing these with a tennis court surfacing contractor like ourselves if you are interested.
Tennis Court Construction Specification
The EPDM polymeric rubber court construction was carried out onto an engineered macadam sub base which gives the surface a stable foundation. The polymeric surfacing was then created by mixing rubber crumb particles with a binder, this mixture was then laid onto the macadam base.
The final polymeric surface was completed in a two tone colour coating of red and green, this coating gives the slip resistance to meet the required playing characteristics. The full construction included the polymeric surfacing itself as well as sports floodlights which was to the standard of 200 lux, sports rebound fence which included a double gate, single gate and combination goal ends.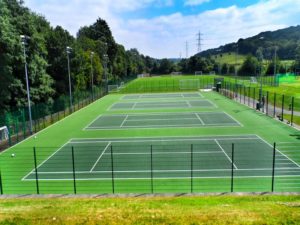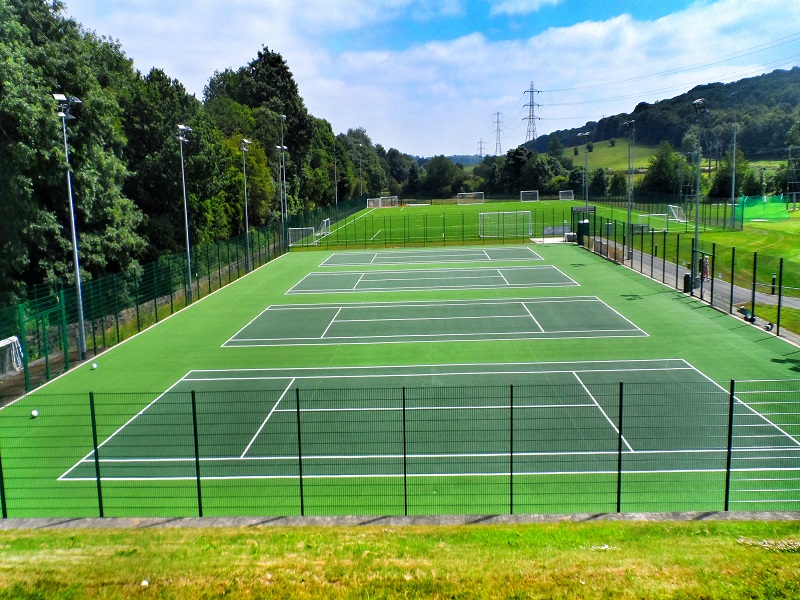 We're a professional tennis facility construction and upkeep business, who have a wide array of understanding in regard to different sports surfaces for the tennis courts we install..
There's a range of sports surfaces, be sure you research about the different variations which are available as well as that are best for you. Seeing that non-slip colour coating increases the traction of the facility, the safety qualities are improved.
Other Tennis Court Services We Offer
We offer a variety of services which include sports surfacing cleaning. Cleaning the court is really important in order that porous qualities will be kept. Moss together with algae might contaminate your facility and can contribute to floods and also water-logging – to stop such damages, a chemical treatment can be applied.
Together with cleaning, we provide a number of additional maintenance services. Repainting can be needed, because anti slip paint coatings in addition to line markings can fade, crack or even end up ruined with time resulting from repeated use. Repainting, as well as line marking helps bring back the initial playing features of sports facilities and can as well make the surface looks completely new.
Small fixes could be carried out simply by qualified professionals; this is the reason it is essential to look at your area for problems regularly. Full renovations can be achieved if the surface is beyond repair. Resurfacing is done when the original surface cannot be mended.
Along with multi use games area and tennis court construction, we also provide a number of maintenance services to help keep your new tennis court in top condition once the installation is complete.
These services include pressure washing, chemical treatments to prevent contamination and reapplication of anti slip coatings and line markings. Having this sort of regular maintenance carried out for your MUGA facility will help to maintain its performance characteristics and ensure that it's safe for use by everyone.
Tennis Court Applications
Tennis court installers can apply a range of different paint coatings to your tennis court, depending on your specification and what you need. These paint coatings can all be applied to our tennis courts in a range of colours (eg blue, red, green). Some of the different types include:
Acrylic non-slip coating – This ensures the safety characteristics of the tennis courts we install are maintained to reduce the risk of injury. This is especially important if the facility is being used by kids at a school or sports club.
Polyurethane spray coat – Enhances the surface with bright colours and increases durability and longevity of our tennis courts. It also adds an anti-slip quality for safety.
Line marking – It is important to make sure that our tennis courts have good quality, skid-resistant line-markings. This will ensure the best performance characteristics and most accurate game playing decisions.
Maintenance For Tennis Facilities
It is important to carry out regular cleaning and maintenance on your artificial tennis court surface, this will ensure that your facility is kept in the best possible conditions to improve its durability and longevity and reduce future resurfacing costs. Cleaning and maintenance for tennis surfaces could include pressure washing to remove dirt and debris, along with moss and algae treatments.
We could also apply new spray coatings and immediate repairs to minor damage to prevent it from getting worse. Sports facility contractors can carry out sports surface testing to help determine the most appropriate type of maintenance for your hard court.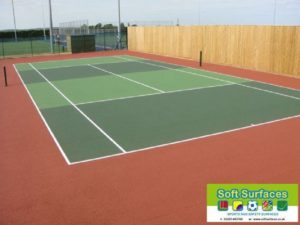 Here at Soft Surfaces Ltd, we can assist you with every aspect of your tennis court surfacing project, including help with funding grants and spreading the costs. Whether we receive enquiries from clients with synthetic grass courts, clay courts or polymeric sports surfaces, we can help.
We can offer you professional advice about the construction and maintenance for tennis courts. We aim to give the best service for our clients at all times.
Our tennis court contractors are experienced and have worked at various locations in the UK including many schools, clubs and residential gardens with sports surfaces.
Tennis Court Construction Cost
The average cost of a tennis court construction in the UK is £60,000, however this figure is often influenced by many factors, including surface type, colours and size of the installation.
The cost to build a tennis court can vary depending on a number of different factors. One of the biggest factors which can affect the cost is the size of the facility you wish to install. Obviously it will cost more to install double courts than single courts. Another factor which can alter the price is the surfacing which you choose to have.
You will find some surfacing for tennis courts will be much cheaper than others due to preparation works, price of materials, etc. For example polymeric surfaces need to be installed on macadam, whereas hard court macadam surfaces do not need another layer.
As expert tennis court builders, we can help you decide on the sports facility for you, whether a hard court, clay court or synthetic grass court, so please do not hesitate to get in touch.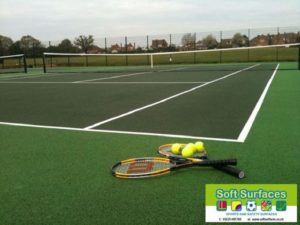 As expert tennis court builders working across the country, we have undertaken a huge number of hard court, grass court and clay court construction projects at clubs, schools and sports centres throughout the whole of the UK and we would be happy to help you with any enquiries you have.
If you'd like to contact us about our tennis courts, or work on an existing surface, please fill in our contact form with as much information as possible and our professional team will get back to you with some a free quote, and friendly advice about all our tennis court construction options.
Find Out More
If you would like more information about tennis court construction or any other sports surface installation, please visit our website at https://www.softsurfaces.co.uk/ where you can find examples of our previous projects.
To discuss an enquiry, please fill in our contact form to let us know all the details. Our experienced team will get back to you with quotes and prices for your sports surface, or any other surfaces we offer.
If you found this information helpful, please leave us a nice comment and share the post with your friends!
FAQs
How Long Does a Tennis Court Last?
Typically a tennis court that is well maintained, they should last around 25 years. Obviously, this number of years could differ if outdoor tennis courts are neglected, so do bare that in mind.
How much space do I need for a tennis court?
It's recommended to have space of around 7,200 sq ft. for your tennis court, as the minimum suggested length of a tennis court is generally around 120ft. These dimensions are the standard for courts for professional tennis players.
Obviously, a tennis court dimensions can differ, and custom courts are available should you wish to have a smaller facility built.
Do I need planning permission for a tennis court?
Generally speaking, you do not need planning permission to have tennis courts built. There are some occasions where planning permission may be needed though, so do always check before having a surface installation carried out.
Get expert advice,
today call us on
Get a FREE quote from our award winning team