Refurbishment of Run Down
Netball Courts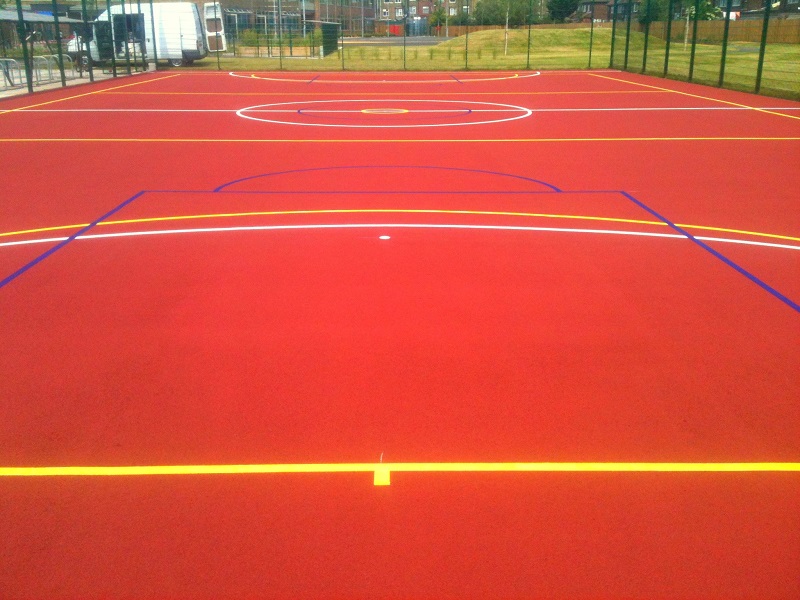 Netball is an increasingly popular sport in the UK and we are seeing lots more netball being played in clubs, leisure centres and schools. We often carry out refurbishment of netball courts including cleaning, repairs and repainting. This helps to remove damage and dirt from the area and make it safer to use.
Netball Court Improvements
The refurbishment of a rundown netball court can come in many forms. Some of the key services we offer include:
Installing new sports rebound fencing
Applying new anti slip netball court coatings
Laying new ball court surfacing
Painting new sports line markings
Netball court surfacing can come in a variety of flooring types. One popular example would be a polymeric rubber court. This is an EPDM rubber surface which is coated with an anti slip coating (HG4 or HG5). The paint coating depends on the amount of sporting use and level of sporting competition. Tarmacadam flooring is also a common choice for netball courts in the UK. All of these play surfaces have different performance characteristics and will vary in price and specification.
Repainting Netball Courts
A dirty and mouldy MUGA surface can result in poor slip resistance. When it comes to refurbishment of run-down netball courts, we'll usually carry out a thorough clean first.
This will restore the anti slip properties and improve the aesthetics of the all-weather pitch. New sports lines can be remarked using appropriate acrylic coatings after a full clean or new ball court surface has been installed. Size, specification and design will all affect the cost of the refurbishment.
Take a look at the video below which shows our team cleaning and repainting a tarmac court:
Sports Court Accessories
We can provide a range of extra products for these areas including MUGA court floodlighting. The bigger the court, the bigger the floodlights that you may need. Luminaries are to be taken into account as you want the floodlight to shine at the correct level for longer. Life time maintenance cost will all need to be taken into account, along with the LUX recommended levels. These are 200 for Football, 350 for Hockey & 250 for Tennis.
Sports fencing can be replaced or repaired depending on specification and cost issues. A recommended sports fence is a 3m super rebound with access gates. However, existing fence panels can be replaced and repaired if budgets restrict.
To get more information on the refurbishment of run down netball courts please contact us today. We'd be happy to give you some more details on the different services we provide. One of our experts can also give you a price for any cleaning or repairs your facility may need.
Get expert advice,
today call us on
Get a FREE quote from our award winning team