Sports Surfacing Rejuvenation
Maintenance Golborne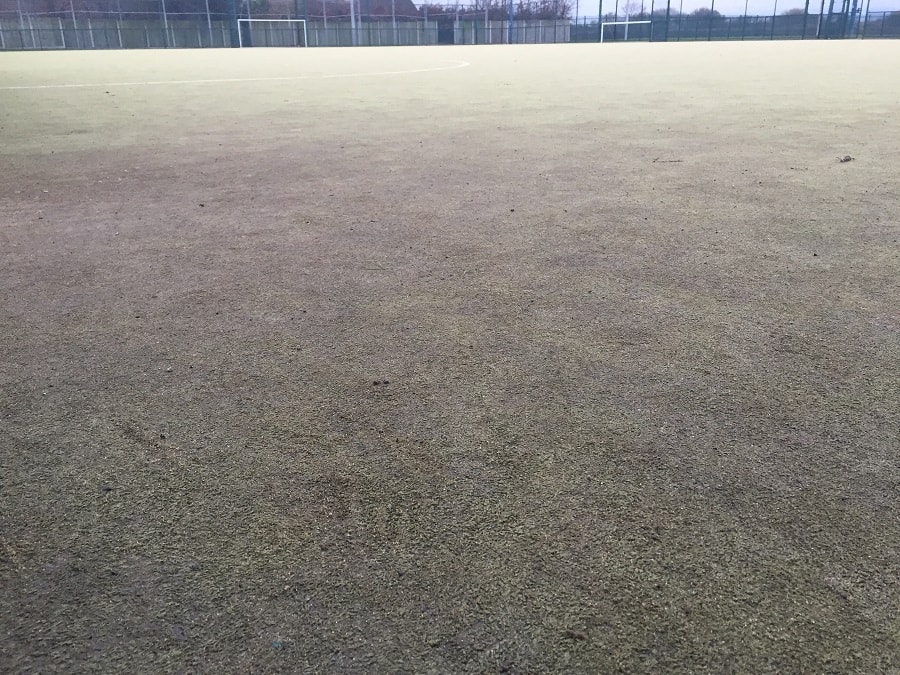 At Soft Surfaces, we're a specialist on sports surfacing rejuvenation in Golborne and are also able to carry this out nationwide.
In addition to installations, our team can also offer sports surfacing repair services for existing sports surfaces within this location, so if you have currently got a sports surface that needs either resurfacing or rejuvenating, feel free to get in touch with us.
For this particular blog post, we show off one of our sports pitch resurfacing jobs that we carried out in Golborne.
Below you can see the specific information for this install, as well as the video transcript describing the job in detail.
As always, if you are interested in any of our sports surface rejuvenation services we offer throughout Golborne, feel free to get in touch with us for a free, no obligation quote today.
Sand filled synthetic pitches can become contaminated and damaged if they aren't looked after properly. This is why it's important to carry out sports surfacing rejuvenation maintenance. This is done to remove the dirty sand infill from within the synthetic grass fibres and replace it with a new layer to improve the performance qualities.
A school in Golborne, Lancashire recently asked us to carry out this process for their sand filled sports pitch which had become dirty and contaminated through a lack of maintenance.
The 2G sand filled surface was dirty, compacted and uncomfortable to play on due to the infill being contaminated and filled with debris.
As you can see the existing surface did not look attractive, and it had lost its original playing qualities. It was in need of a thorough deep clean and new application of sand infill to improve it.
Sand Filled Synthetic Pitches
The sand filled sports pitch specification is a 2G surface which is commonly used for football and hockey pitches as well as multi purpose sports facilities. Installation of these artificial grass pitches involves a porous stone sub base with a specialist synthetic carpet rolled out on top. Once the artificial grass surface has been put down, a layer of silica sand infill is put down within the artificial turf fibres.
This sand infill is designed to improve the performance qualities of the artificial surfacing and hold up the grass pile to create a natural feeling playing surface. If the sand filled pitch surfacing is not looked after properly, dirt, litter and natural matter can get stuck within the pile. It will then contaminate the sand infill and the sports surface.
This then leads to the porous layers getting blocked up. Because of this, water will sit on the surface rather than draining away through the pitch. When this happens, it is necessary to carry out sports surfacing rejuvenation maintenance to fix the problem.
Sports Surfacing Rejuvenation Maintenance
The process of sports surfacing rejuvenation maintenance was needed for this school's sand filled pitch. It had become waterlogged and the performance qualities were being lost. Before the rejuvenation was done, we had to carry out some tests on the synthetic pitch surface to check the levels of contamination within the grass.
We did this by taking samples of the existing dirty sand from different areas around the facility. The sand was then mixed with a solution of water, bicarbonate of soda and a dispersal agent.
Once the solution was thoroughly mixed, the samples were left overnight. We did this to allow the contamination to separate from the sand and float to the top. The results of these tests indicated that the surface was contaminated enough to require the sports surfacing rejuvenation maintenance.
We began the maintenance work by extracting the dirty sand infill out of the turf to get rid of the contaminations and leave behind a clean synthetic grass surface. The next part was installing a new application of silica sand within the artificial grass fibres. This brings back the original playing qualities of the sports pitch.
After applying the sand to the pitch, we then used a drag brush to distribute it evenly through the pile. This is to create consistent performance characteristics across the whole area.
After the Maintenance
The finished result after the sports surfacing rejuvenation maintenance was a much better-looking sand filled pitch. It also now drains well and the students at the school can enjoy using it for a range of sports and activities.
It's important to maintain these facilities to ensure they are safe and offer good performance qualities.
Why Choose Us?
At Soft Surfaces our team have over 25 years experience installing sports surfacing rejuvenations in Golborne, as well as across Greater Manchester in general.
The team pride themselves on only using the highest quality materials for our works, and our professional installers will work relentlessly to ensure your Golborne sports surfacing rejuvenation job looks brilliant no matter the specification you desire.
Additionally our team can take care of the maintenance of your new surface once installed too, making the process of caring for your new surface a breeze. Feel free to get in touch with us if this is something you would be interested in, and a member of our team will get back to you right away.
Other Greater Manchester Areas we Carry Out Sports Surfacing Rejuvenations
Here at Soft Surfaces, we're able to carry out Sports Surfacing Rejuvenation jobs throughout the Greater Manchester area, including the following areas:
Sports Surfacing Rejuvenation in Manchester
Sports Surfacing Rejuvenation in Bolton
Sports Surfacing Rejuvenation in Sale
Sports Surfacing Rejuvenation in Rochdale
Sports Surfacing Rejuvenation in Stockport
and any other surrounding areas.
Find Out More
If you have a contaminated sand filled pitch which needs cleaning or maintenance, please use our contact form to send us over the details so we can help with your enquiry. Make sure you include contact details, an area size of the facility and your project postcode so we can give you an accurate price quotation for the sports surfacing rejuvenation maintenance.
We can also help with installation and maintenance of a range of other sports facilities. Feel free to check out the Soft Surfaces Website if you can't find what you're looking for here.
Don't forget to share this post with your friends. Also leave a comment below if you'd like to ask us a question!
Get expert advice,
today call us on
Get a FREE quote from our award winning team