Polymeric Surface Basketball Court Installation
in Cheadle, Cheshire

At Soft Surfaces, we're a specialist installer on polymeric surface basketball courts in Cheadle, Cheshire and are able to fit this surface nationwide.
In addition to installations, our team can offer polymeric surface basketball court repair services for existing polymeric surface basketball courts, so if you currently have a polymeric surface basketball court that needs either resurfacing or rejuvenating, feel free to get in touch with us.
For this particular blog post, we show off one of our polymeric surface basketball court installations that we carried out in Cheadle, Cheshire.
Below you can see the specific information for this install, as well as the video transcript describing the job in detail.
As always if you are interested in any of our polymeric surface services we offer throughout Cheadle or the entire Cheshire area, feel free to get in touch with us for a free, no obligation quote today.
Polymeric Surface Basketball Court in Cheadle, Cheshire Case Study
What was the specification? : Polymeric rubber court surface
What colours were used? : Blue
What was the size of the job? : 400m²
How long did the job take?: 4 days on site
Polymeric Rubber Basketball Court
Take a look at the case study video below to see our team installing a polymeric basketball court facility in Cheadle, Cheshire.
Video Transcript
Hi guys it's Dan here and today i'm going to be showing you a Polymeric Surface Basketball Court Installation in Cheadle, Cheshire.
So this client was a residential area, and had come to us with a space that they'd like a basketball court fitted in. We broke down what we could do for them, and the client booked us in to work right away.
So after discussing the many surface types we could offer the client, it was mutually agreed that the best option for their basketball court flooring would be a rubber polymeric surface.
This specific surfacing is great for outdoor sports courts such as basketball as it's actually a porous system, meaning it actually absorbs water during our more rainy months. This means that polymeric can be used all year round, perfect for use here in the UK.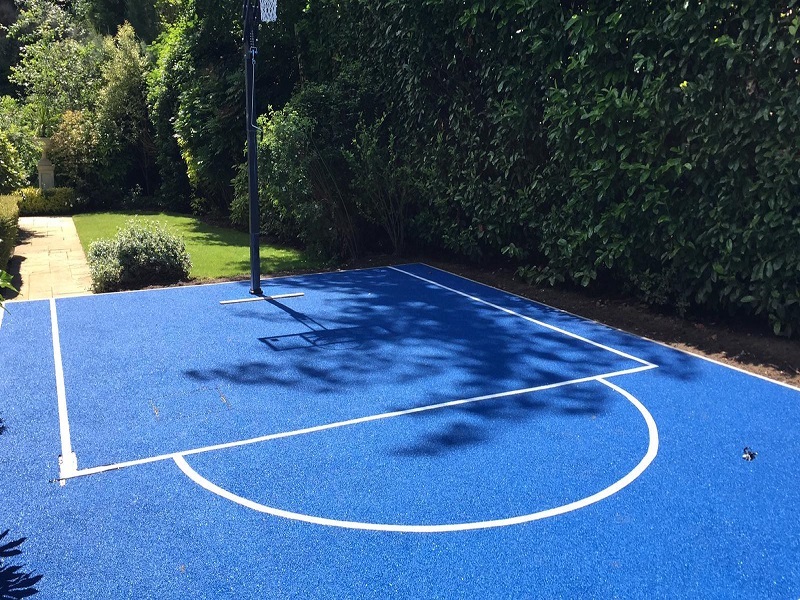 Furthermore, polymeric surfaces are great for basketball specifically as it's EPDM rubber qualities make the feeling of bouncing a ball on polymeric brilliant, and polymeric can even be fitted in practically any colour specification you like!
These range from traditional court finishes to the brightest multi-coloured designs, including different colours for the line markings! This is totally up to you, and can be discussed in detail when you enquire.
At Soft Surfaces we've been installing polymeric surfaces for basketball courts for over 2 decades, working nationwide to fit these surfaces of all shapes and sizes. So no matter what kind of job you'd like carrying out, please feel free to get in touch.
Whilst we do work nationwide, we've done lots of work in the Cheshire area and because of this we rank in Google for these key phrases:
Basketball Court Installation in Cheshire
Cheadle EPDM Rubber Flooring Company
Cheshire Basketball Surfacing Experts
Best Polymeric Surfaces in Cheadle
Cheshire Rubber Basketball Court Specialists
And even more.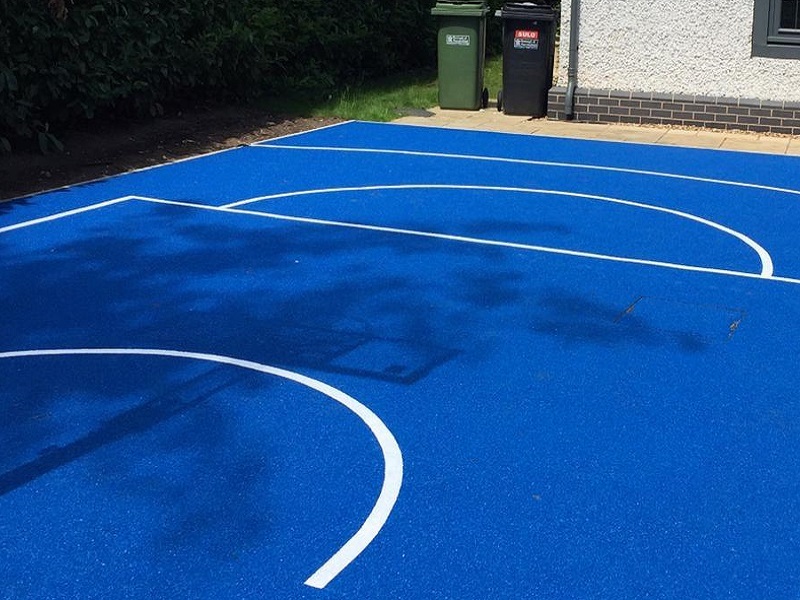 So thanks again for watching this video, and to enquire today please contact us at www.softsurfaces.co.uk or give us a ring at 01625 445 760.
Benefits of Polymeric Surface Basketball Courts in Cheadle, Cheshire
Having a polymeric surface basketball court installed in the Cheadle, Cheshire area has many benefits, these include the following:
All Weather Surface
Polymeric surfaces can be used all year round, this is great for school because teachers are still able to carry out P.E. lessons in the winter months without worrying about the children's injuries.
Anti-Slip Finish
Having a polymeric surface installed in Cheadle will massively increase the slip resistance of the surface, due to the finish that is applied to the surface. As a result of this, the surface will be considerably safer than many of its competitors, this also makes polymeric a great all weather surface.
Multi Sports Line Markings
With the ability to use the surface for multiple sports it makes polymeric as a surface much more cost effective, it allows smaller sports clubs the ability to split the cost and have an outdoor basketball court, football pitch and netball court all in one place not only saving money but also space as well.
Why Choose Us?
At Soft Surfaces our team have over 25 years of experience installing polymeric surface basketball courts in Cheadle, as well as across Cheshire in general.
The team pride themselves on only using the highest quality materials for our works, and our hard working installers will work relentlessly to ensure your Cheadle polymeric surface basketball court surface looks brilliant no matter what specification you desire.
Additionally our team can take care of the maintenance of your surface once installed too, making the process of caring for your new polymeric surface basketball court a breeze. Feel free to get in touch with us if this is something you would be interested in, and a member of our team will get back to you right away.
Other Cheshire Areas we Install Polymeric Surface Basketball Courts
At Soft Surfaces, we are able to install polymeric surface basketball court surfacing throughout the Cheshire area, including the followings areas:
Polymeric Surface Basketball Courts in Crewe
Polymeric Surface Basketball Courts in Knutsford
Polymeric Surface Basketball Courts in Macclesfield
Polymeric Surface Basketball Courts in Poynton
Polymeric Surface Basketball Courts in Wilmslow
Get in Touch
If you would like a polymeric surface basketball court installed in Cheadle, please make sure to speak to us using the contact form provided.
We can offer information on designs, colours and prices along with advice on preparation works and more.
Thank you for taking the time to take a look at our case study, and for any more questions, please get in touch today.
Get expert advice,
today call us on
Get a FREE quote from our award winning team