Tennis Court Maintenance
in Woking, Surrey

What was the specification? : Macadam tennis court surface
What colours were used? : Green
What was the size of the job? : 260m²
How long did the job take?: 3 days on site
Tennis Court Cleaning and Painting
Our team carried out a full tennis court maintenance project including cleaning and repainting of a court in Woking, Surrey.
Video Transcript
Hi guys it's Dan here, and today we're going to be showing you a Tennis Court Maintenance in Woking, Surrey.
So this client gave us a call explaining how their existing tennis court facility had a very large buildup of moss and algae contamination. We took a look at some photos of the surface, and when we explained what we could do for them they booked us in straight away to get to work.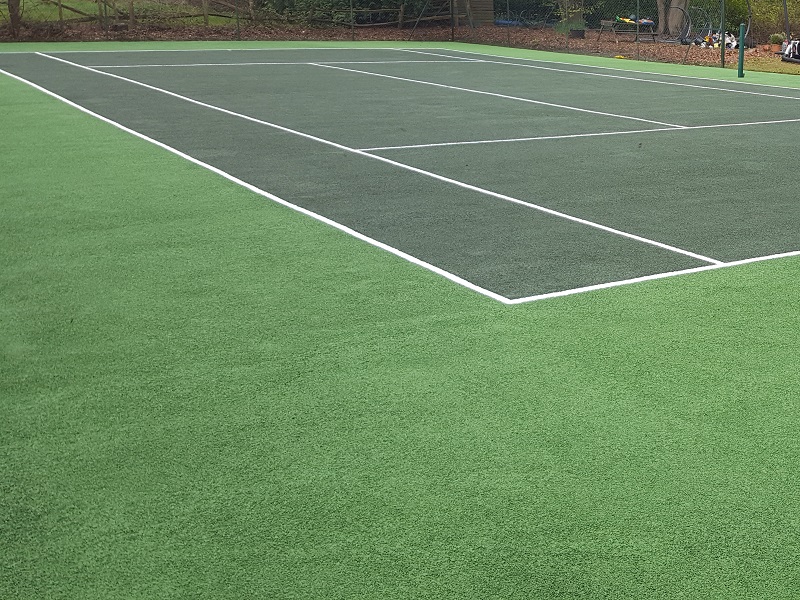 So like any sports surface, if neglected the flooring can quickly become contaminated and damaged. Here at Soft Surfaces we recommend carrying out regular proactive maintenance to prevent this, however we are able to transform unplayable surfaces back to their best.
For this particular facility, luckily the flooring itself had not become damaged to the point where a complete resurface was needed, and instead we were able to carry out our specialist clean & paint service to restore the court back to it's best.
You can see from the photos here that the the cleaning process of the job has been completed, with the surface's previous build up of moss and algae removed. The next step was to repaint the surface, fresh with new line markings to match.
We respray our courts with an anti-slip colour coating that can be applied onto macadam surfaces, and this can be resprayed in practically any colour choice you like. The client for this actual job went a light/dark green combo, and coupled with the new line markings it really helped restore the surface to it's best.
You can see now that the work has been fully completed, and it's safe to say the work has absolutely transformed the entire area. The client were amazed that a resurface wasn't needed, and were over the moon with the work we were able to carry out for them.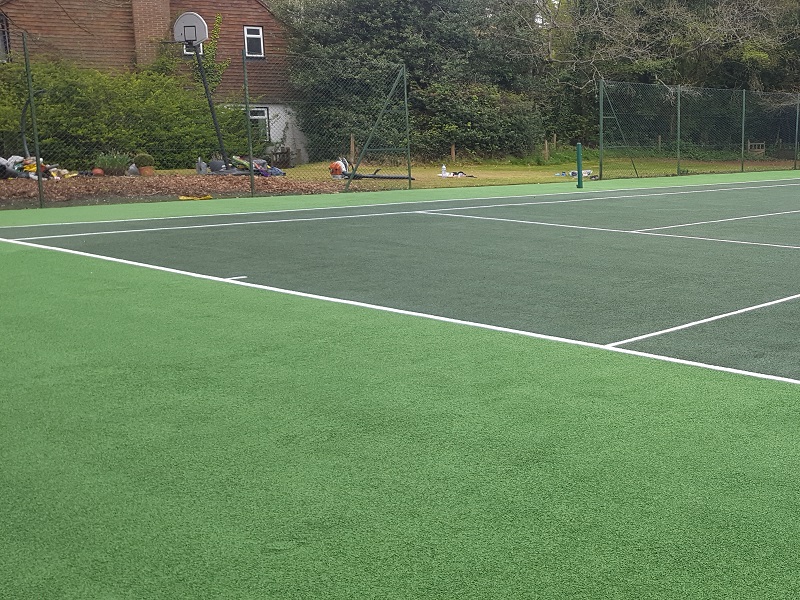 Here at Soft Surfaces we are a nationwide company, and will work on jobs of any shape and size across the UK. Despite this, as we've done a lot of work in the Surrey ares we rank in Google for these keyphrases:
Surrey Anti Slip Tennis Court Company
Tennis Court Respraying in Woking
Best Sports Surface Repair in Surrey
Woking Tennis Court Maintenance Experts
Sports Court Recolouring in Woking
and even more than that.
So thanks again for watching this video, and to enquire today please contact us at www.softsurfaces.co.uk or give us a ring at 01625 445 760.
Get in Touch
You can speak to our team if you'd like more information on the tennis court maintenance services we offer.
Just use the contact form provided and our team will be happy to discuss costs for this work.
Get expert advice,
today call us on
Get a FREE quote from our award winning team