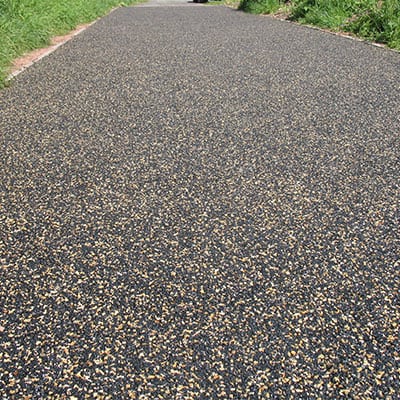 Golf pathways throughout the UK are being renovated as many of them are problematic and seem to let down an otherwise immaculate course. Over time the surfacing can become damaged and worn out, meaning that both the appearance and the safety of the path are compromised. There is a range of solutions and new specifications that we can install to replace old walkways. However, the decorative rubber pathway seems to be a popular answer to this.
Golf Walkway Surfacing
The rubber golf walkway surfacing is low maintenance, durable and very decorative specification which adds prestige and comfort to any club. You will find many advantages to choosing the EPDM specification for your pathway surface, these include:
Reduced noise associated with traditional hard paving
Increased safety qualities
Comfortable to walk on, reducing player fatigue
Available in a wide range of colours and mixed colour designs
A smooth seamless appearance
Self-draining – no more puddles
Virtually maintenance-free and easily cleaned
Your own ground staff can complete the ground preparation
Please let us know through our contact form if you've got any questions regarding the walkway surfacing and a member of our team will be happy to offer some helpful advice. If you would like more information on prices and designs for installing a putting club path in one of the surface types we specialise in, don't hesitate to get in contact.
Many golf pathways have poor drainage which could cause puddling. Some have a loose fill-finish which washes away and this causes the surface to become slippery and a potential trip hazard. These require regular maintenance, which is both times consuming and expensive in the long term.
The rubber pathway is a resin bound rubber crumb material that is fully porous and therefore has none of these problems. For the ultimate longevity, we recommend a solid porous sub base. The EPDM wetpour specification is durable and has an optimum golf pathways surface that can be installed in any colour and we may even install a club logo within the surfacing (subject to design).
Rubber Pathways for Golf Courses
We are experts when it comes to installing rubber pathways for golf courses. You will come across a number of different options available including rubber mulch, wetpour and even rhino pave. Our team of experts can look into your individual needs and requirements. We'll also assess your spending budget and will help you choose the best surface for your pathway.
There are a number of colours that are available when installing rubber pathways for golf courses. We install the pathway to meet up with your colour scheme or your individual preferences. We can complete the installation to a professional standard at reasonable rates. Make certain to contact us if you require a free quotation.
Another option for putting green course pathway flooring is rubber mulch surfacing. This is created using recycled rubber chippings that are combined with resin and are then laid out onto the desired surface. The mulch specification is ideal for natural-looking areas as we can lay it onto most existing outdoor areas. This includes grass and muddy patches in various locations.
Golf Course Path Surfaces
Having golf course path surfaces installed in EPDM is a popular choice, however, there are alternatives if you'd like a slightly different appearance for your path. We install decorative surfaces in resin-bound gravel which is a strong and durable flooring specification made from natural stone that is bound with resin. You can choose from a range of designs as the gravel aggregate comes in various natural colours, allowing you to match the pathway to any existing outdoor surfaces in the area.
Get In Touch
If you'd like to enquire today about the installation of golf pathways, please complete the contact form. One of our experts will get back to you right away. We shall offer more information on the surfacing for golf pathways and the cost to install. A free quote may be provided, so make certain to get in touch for more details.
Get expert advice,
today call us on
Get a FREE quote from our award winning team