Outdoor Basketball Court
Sports Surfaces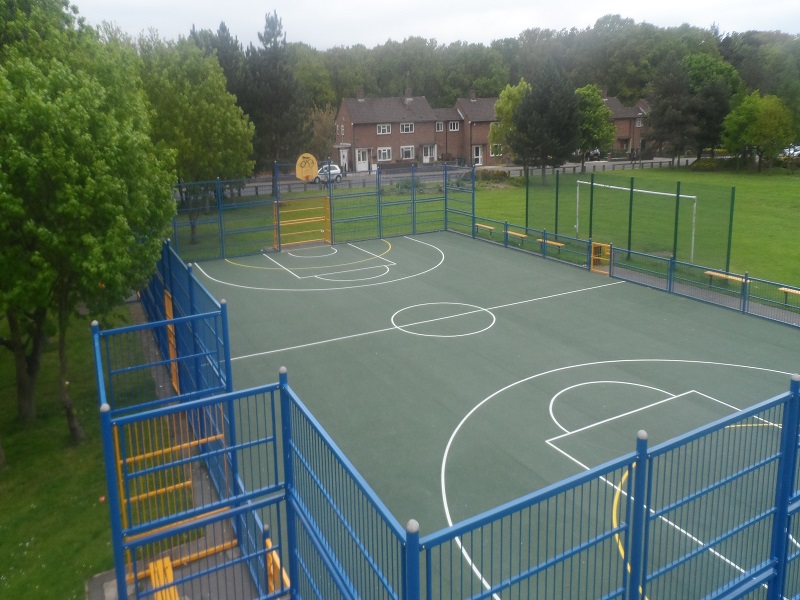 Basketball is a very popular sport in schools, colleges and leisure centres across the UK. This means there is a high demand for top quality outdoor basketball court facilities to play the sport. But you don't have to have a court built just for basketball. You can install a multi use games area where a number of different sports can be played, including netball and tennis.
Specifications For an Outdoor Basketball Court
A modern-day outdoor basketball facility has standard sizes and dimensions of 28m x 15m. However, depending on the level or standard of sport that you wish to play, we can adapt this. We'll customise the specification to suit many sizes of MUGA outdoor basketball courts. It all depends on budget, costs and size/location.
Basketball is a sport that you can play on various types of surfaces. The most common types are asphalt tarmacadam and EPDM rubber crumb polymeric/tartan surfaces. These surfaces can all have anti slip sports colour coatings and line markings applied in different colours so a number of different sports can be played on the same surface, including basketball, tennis and netball.
We commonly install these facilities at various locations in the UK. There are many schools and clubs with worn out sports courts which need updating. Our team can do this by thoroughly cleaning the existing area to remove dirt. We'll then apply an anti-slip coating with fresh line markings in colours of your choice.
All Weather Sports Surfaces
Both macadam and polymeric surfaces are porous so they allow rainwater to drain through them. All of our all weather MUGA surfaces are porous to allow for good water drainage, preventing flooding and waterlogging which can cause damage to the surface and make it unsafe for people to use.
The good drainage characteristics of these sports surfaces mean they are usable in all weather conditions and at all times of the year. This is a great quality, especially in schools and colleges.
This video below shows the whole process of installing a polymeric basketball court in Manchester. Our team completed the groundworks, macadam base installation and applied the rubber EPDM surfacing on top.
Here at Soft Surfaces Ltd, we are specialist contractors who have a wealth of experience in the sports and play surfacing construction industry. We have helped many clients with advice and construction information regarding outdoor basketball courts and MUGA systems and we would be happy to discuss your project with you.
We can assist you with all aspects of your sports surfacing enquiry, including costs, quotes, specifications, construction and opportunities for financial help through funding grants and finance plans. If you would like more information about any of our other products or services including playground surfacing and sports pitch maintenance, please feel free to contact our team.
Speak to Us
To submit an enquiry, just fill in the contact form and we will be able to offer you advice for your outdoor basketball court project, as well as information regarding prices and quotes.
Was this post helpful to you?
Do you think basketball is a good sport to play in schools?
Please let us know your thoughts in the comments below and don't hesitate to share this post!
Get expert advice,
today call us on
Get a FREE quote from our award winning team