Sports Court Maintenance
in Fleetwood, Lancashire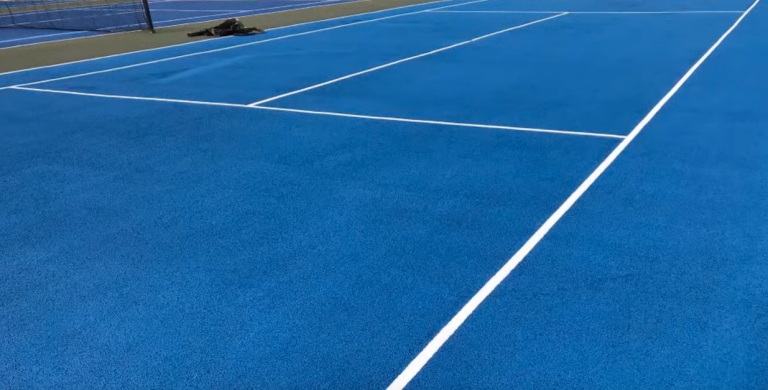 What was the specification? : Acrylic anti slip coating
What colours were used? : Light and Dark Blue
What was the size of the job? : 1800m²
How long did the job take? : 5 days on site
What sub base was used? : Macadam
The professional clean and paint of a tennis court can dramatically enhance the look and playability of your sports surface.
Tennis Court Painting
The video below goes into more detail on the process of tennis court maintenance. You can really see how
Please see video transcript below:
00:02 Hi, you guys. It's Dan from Soft Surfaces here, and on this video we're going to be showing you a cleaning and painting of a tennis court in Fleetwood.
00:08 So here is some photos now of the surface prior to us actually going out to do works on it. As you can see, it's quite badly damaged, and many people assume that this needs a resurface; however, a cleaning and painting often does suffice.
00:21 So next up here's the actual transformed tennis court. So there it is initially prior to us doing the works, and then there it is once it's cleaned and painted.
00:27 You can see some more photos of that there. It looks really, really great. We've completely kind of brought it back to life, and it's a great surface to then play on without any of the marks that it previously would have had.
00:34 As you can see from the customer reference they said that our operations director "was very amenable and understood the requirements," and the result was better than he hoped.
00:42 Whilst we do work nationwide here at Soft Surfaces, carrying out lots of work in the Lancashire area has actually led us to ranking in Google for these keywords: "Fleetwood tennis court construction," "sports court repainting Lancashire," "clean and paint my tennis facility UK," "sports surfacing repair Fleetwood," "Lancashire tennis floor rejuvenation," and even more than that.
01:03 So if you would like to find out more about our prices and specifications of the surfaces that we can provide or the maintenance that we can offer, please just find the link in the description of this video and our website will be there for you to click on.
01:13 Thanks for watching, guys, and we hope to hear from you soon.
Get in Touch
For more information on tennis court painting in the UK, please get in touch today and a member of our team will be happy to help.
We can assist with details on costs, design and specification to ensure your court is bespoke for you.
Get expert advice,
today call us on
Get a FREE quote from our award winning team