Algal Squidge Sand Infilled Sports Pitch
Contamination

Algal Squidge can occur on sand infilled and sand dressed artificial synthetic all weather surfaces and it can cause substantial damage to the playing performance and system characteristics. Algal squidge, sporn, mud and moss occurs when the surface is wet and does not dry properly.
It can cause the system to flood and suffer from poor porosity which means that the STP / ATP Astroturf sports pitch will not drain as specified and designed. When this happens, the surface requires rejuvenation, renovation and upgrading with an all weather surface regeneration and the method to do this is to remove and excavate the contaminated sand.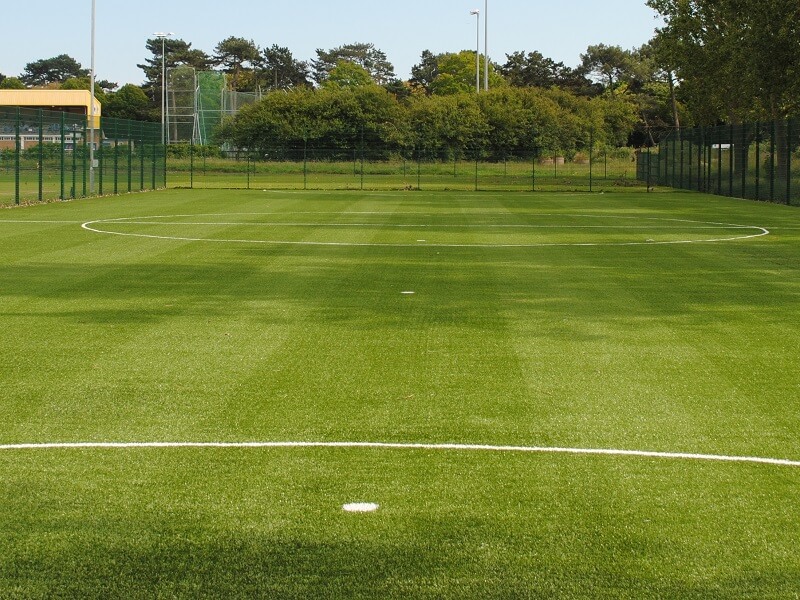 This is done by either blowing air into the sports carpet, at an angle with an air compressor and this will get remove the problematic contaminated sand, then the sand needs to be removed from the site. New clean silica sand is then installed back into the sports pitch / MUGA, to the specified amounts. The common designs for these carpets are a depth of 15 – 19mm sand for a sand dressed system and 20 – 24mm depth for a sand-filled system. Another way of completing the remedial and revitalisation works is to jet wash the carpet, but this is not as successful as the jet wash may push the algal squidge back to the bottom of the carpet pile.
Soft Surfaces Ltd are a specialist sports surface contractor and have completed many new constructions and many surface maintenance projects. The works on these projects also include new game line marking or upgrading, seam / joint repairs to the sports pitch and patch repairs where the carpet has been damaged/worn. Please call us on 01625 445760 or visit our website and we can discuss areas that you may need help with like budget information, funding advice, quotes, pricing and costs.
Get expert advice,
today call us on
Get a FREE quote from our award winning team