Benefits of Climbing
in Primary School

During the fun and exciting years of primary school, children will develop much quicker than at any other time of their life. They have the opportunity to socialise and develop skills that will carry them through into adulthood and the playground equipment that they are introduced to and allowed to explore has a very big impact on how their core strength, stability and motor skills evolve.
There are so many structures that have been designed to enhance different areas of physical and mental development and for many years, schools that have had climbing equipment fitted in their play areas have seen numerous benefits for the children that play on them.
The short-term change is noticeable and children will challenge themselves and tackle greater equipment as they build their confidence. See our range of options for school playgrounds here to find more ideas. Apart from the strength-building benefits, climbing equipment encourages the sturdy development of gross motor skills such as hand-eye and foot-eye coordination, along with leadership and problem-solving skills.
There is a lot of research that shows the impressive benefits of climbing in primary school and therefore many schools all over the country are turning to these exciting structures to help with many aspects of their pupil's development.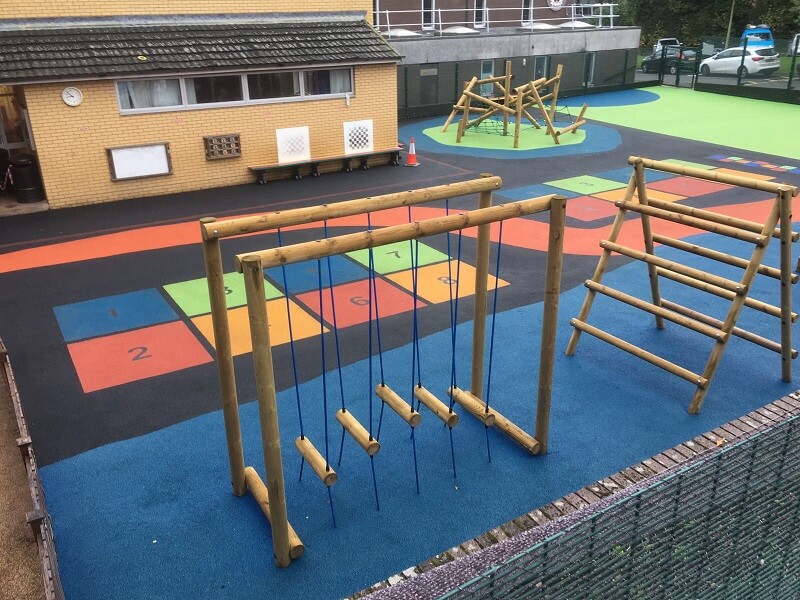 Playground Climbing Frames
Climbing frames and apparatus was first introduced in Germany back in the 19th century, and they have come on leaps and bounds since. Starting from simple old metal frames and evolving into the array of cleverly crafted masterpieces seen across primary schools today.
By exploring these varieties of climbing frames, a child's cognitive development will excel thanks to the range of problem-solving experiences that they will encounter. It will also help improve memory, and by feeling a sense of fear, but the motivation to complete the task will also benefit children. Here are some of the key benefits:
Physical development
Improving strength
Agility skills
Confidence boosting
Encourages controlled risk-taking
Many playground climbing frames will utilise a variety of inclines, levels and distances between platforms which is a great way of increasing the child's awareness to their own body position and movement; an ability that is necessary for life! These are all great for improving children's exercise levels through play instead of just PE lessons.
As mentioned previously, working memory can be improved by doing these activities and the evidence for this is apparent. In 2015, a study was published whereby children that had spent just two hours climbing had increased their capacity for working memory by 50%.
Outdoor Agility Games and Activities
Many specially designed climbing frames have been created to encourage the child to play around with agility and puzzle-solving skills. Recommendations for outdoor agility games and activities are often provided by the manufacturers upon installation, but many more games can be created by children and teachers alike to encourage optimal use of the climbing frame.
Many frames can be accessed from every angle which keeps the structure exciting and like a new challenge each time it is used. Activities that focus on teamwork and team-building challenges are great for children and help develop social skills that will be utilised throughout their lives. When a child climbs to the top of a frame, celebrating the accomplishment with others is a brilliant confidence booster. There are many ways to maximise the value of play equipment if you are trying to get the best results.
By working as a team to reach the top, children have the chance to learn valuable teaching, listening and communication skills – the same skills that kids will use with their friends at home, or in the classroom and later in life, at work. Remember, the skills that are learnt in these important years of development are not skills that will just simply disappear or not be used – they are skills that will remain with them for the rest of their life.
Climbing Equipment for Young Children
Many companies which design and build this equipment have researched and often taken part in research, that helps create the perfect climbing equipment for pupils of various ages. The climbing apparatus created for younger children, will certainly not keep a 10-year-old entertained, and a piece of equipment designed for a 10-year-old will be much too dangerous for a 4-year-old.
Height and distance will increase as the child's age increases, so be sure to have a solid idea of who will be using this equipment before purchasing.
Calculated risks are what all children must learn how and when to, or not to, take. Yet it is the adult's duty to ensure that the equipment is suited to the child's age, and no serious injury shall occur. Climbing frames allow kids to constantly assess the risk of falling and hurting themselves, but of course, this does not mean that children should be put in dangerous situations.
With the correct, age suited equipment, kids can assess and navigate risk by themselves; an extremely valuable skill that would be difficult to teach.
Boosting Physical Development in School
Climbing is something that children learn from a young age, whether climbing a set of stairs at home or pulling themselves up onto a couch or chair. It is an instinctive behaviour that dates to our evolutionary ancestry and, although we do not spend 24 hours a day traversing trees and heights anymore, it still has its important evolutionary advantage.
Climbing frames in schools help improve fitness levels as well as balance and agility alongside spatial and directional awareness. The stretching, reaching and swinging works children's muscles so that they can grow and strengthen as they should. Not only is it aiding muscle development, but it is also providing cardiovascular exercise and boosting physical development in school.
In an era where many children spend most of their day sitting down in classes, having that freedom to explore in a safe environment not only benefits the psychological development but also provides them with the opportunity to stay fit in an extremely fun, and natural, way. Playing outdoors and by or within green spaces offers benefits for a child's development.
Shockingly, fewer than 10% of children play in woodland areas, this is down from 50% just one generation ago. Fresh air and nature are important and can not only help reduce stress and behavioural issues in children, but it is much healthier than sitting in front of a computer screen, both mentally and physically.
Get expert advice,
today call us on
Get a FREE quote from our award winning team