Playground Flooring Repair
in Birmingham, West Midlands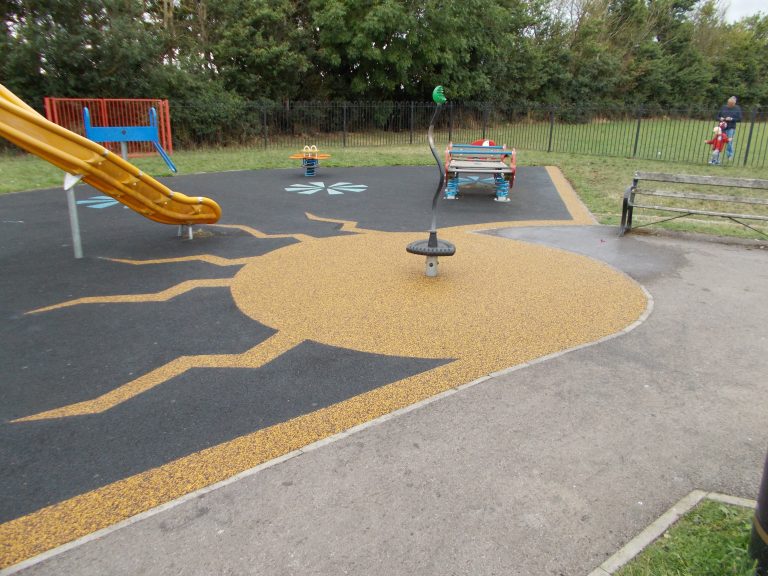 At Soft Surfaces, we are a specialist on playground flooring repair services in Birmingham, West Midlands and are able to fit this surface nationwide.
Our team can offer playground flooring repair services for existing playground flooring within this location, so if you currently have a playground flooring surfacing that needs either rejuvenating or resurfacing, be sure to get in contact with us.
For this particular blog post, we show off one of our playground flooring repair that we carried out in Birmingham, West Midlands.
Below you can see the specific information for this repair, as well as the video transcript describing the job in detail.
If you are interested in any of our playground flooring repair services we offer throughout Birmingham or the entire West Midlands area, be sure to get in touch with us for a free no obligation quote today.
Playground Flooring Repair Services in Birmingham, West Midlands
What was the specification? : 40mm wetpour
What colours were used? : Yellow
What was the size of the job? : 130lm
How long did the job take?: 2 days on site
What sub base was used? : MOT Type 1 Stone
Wetpour Play Area Repair
The video below shows a wetpour playground repair in Birmingham.
This includes a perimeter band repair and small localised repairs on the surface.
Video Transcript:
Hi guys, it's Dan here. Today, I'm going to be showing you a playground flooring repair that we carried out in Birmingham, West Midlands. So you can see from the initial photographs here that this playground really was not in the best condition and it actually reached a point where it had become dangerous for the children using it. The owners of this facility then contacted us and we got to work.
With any playground surface, lack of routine proactive maintenance can lead to more serious repairs needing to be done in the future. Here at Soft Surfaces, we are playground experts with over 20 years of experience installing and maintaining of a variety of different surface types throughout playgrounds. We strive to ensure that the work we carry out is at the highest possible quality and promise that our repairs will restore the playground to its aesthetically pleasing, safe, original state.
Here at Soft Surfaces, we work nationwide carrying out these works to play areas across the United Kingdom, and there really is no job too big or too small for us. If you are interested in having a playground surface installed or maintained, please don't hesitate to contact us.
So as you can see now, the surface has been fully repaired back to its best. Our client was overjoyed with the job we carried out for them and was happy to see that their facility was back in great condition.
At Soft Surfaces we've carried out a lot of work in the Birmingham area. And as a result of this we rank in Google for the following key words, Birmingham wet pull repairs, play area rejuvenation West Midlands, best rubber surfacing company Birmingham, West Midland safety surface experts, Birmingham playground specialists, and even more.
So thanks a lot for watching guys and to contact us today, please just visit www.softsurfaces.co.uk or give us a call on 0-165-445760.
Why Choose Us?
Our team here at Soft Surfaces Ltd have over 25 years of experience carrying out playground flooring repairs in Birmingham, as well as across the West Midlands in general.
The team pride themselves on ony using the highest quality materials for our works, and our hard working installers will work relentlessly to ensure your Birmingham playground flooring repairs look brilliant in whatever specification you desire.
Post repair, our team can also take care of the maintenance of your surface too, making the process of caring for your new surface a breeze. Feel free to get in touch with us if this is something you would be interested in, and a member of our team will be in touch as soon as possible.
Other West Midlands Areas we carry out Playground Flooring Repair services
At Soft Surfaces, we're able to carry out playground flooring repair services throughout the West Midlands area, including the following areas:
Playground Flooring Repairs in Coventry
Playground Flooring Repairs in Wolverhampton
Playground Flooring Repairs in Solihull
Playground Flooring Repairs in Sutton Coldfield
Playground Flooring Repairs in Dudley
Get in Touch
If you would like Playground Flooring Repair services in Birmingham, please make sure to speak to us using the contact form provided.
We can offer information on designs, colours and prices along with advice on preparation works and more.
Thank you for taking a look at our case study, and for any more questions, please get in touch.
Get expert advice,
today call us on
Get a FREE quote from our award winning team