Best Playground Equipment
for Primary Schools

Finding the best playground equipment for primary schools isn't just about finding options which are cost-effective to your budget! The most fun kids can have is with equipment and toys which have been specifically designed to help with their development, and which allow them to outwardly express themselves while having fun at the same time.
As I'm sure we all remember, school isn't always about the lessons and the learning – it's about break times, making friends and having fun. The best playground equipment for younger pupils is that which has been specifically designed with children in mind – and not as a means to an end.
Playground toys and standards come in all shapes and sizes, and have evolved over the years to become safer and more eclectic for growing kids' tastes. Swing sets, hopscotch, seesaws and more are still well-loved and are great ways for you to really encourage your kids to have fun – but there's plenty to be said for variety, too! Let us show you some of the brilliant ways you can help to create a safe, healthy and fun primary school playground for kids aged 4 to 11 to really enjoy.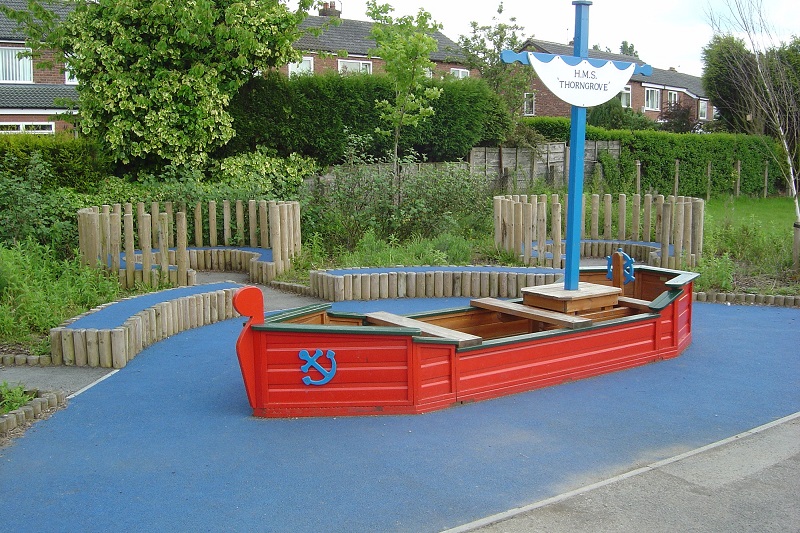 School Play Area Equipment
School play area equipment can arrive in all shapes, sizes and colours, and while you may wish to move towards more traditional equipment which you know works well for kids of all ages, there's also plenty to be said for new and exciting playground standards to help your school stand out from the rest!
Our vast selection of recreational games and features will allow kids to play safely with friends on an autonomous basis – while you'll always have a guardian keeping watch over your children, our play area essentials come with peace of mind guaranteed. We can also provide playground safety surfacing to help prevent injuries from trips and falls.
The best playground equipment for primary schools is that which genuinely inspires kids. While frames and slides and swing sets of old will still be great fun for kids of various ages, children need more of a variety in their playground to help keep their minds active and willing to play. See this post on how active play can help improve children's mental health.
Kids of all ages need a healthy and varied stimulus – and with a variety of games and installations available to you, there's no reason why you can't build your own unique school playground space at a minimal budget.
Children's Playground Activities
Many children's playground activities revolve around physical exertion through gentle play – which is why you will need to look for playground standards which are well-reviewed and thoroughly tested for safety and fun before you opt for any installation!
As a provider of playground activities and games to hundreds of schools up and down the country, it's our job to make sure you have access to a huge range of games and outdoor activities which will inspire your kids to come away from their screens and to get some good old-fashioned outdoor fun into their schedule once in a while! A variety of inclusive play area designs are available so you can create a space that suits children of different abilities.
Play needs to be encouraged throughout each and every primary school day – it's a time when children can be at their most creative, and some of the playground standards we provide not only help children to keep fit in a safe, orchestrated manner, but also to allow kids to enjoy playing with their friends and to develop creatively from day today.
Mazes and traditional playground marking games will help to encourage mental play while rope ladders, slides and soft play areas will encourage physical play that helps youngsters to exert themselves in ways that the classroom may not be able to ask of them.
Primary School Play Apparatus
No two pieces of primary school play apparatus are quite the same, though it's safe to say that you'll be able to mix and match a number of brilliant games and activities together to create that perfect package. Check out our top 5 playground trends to get some more inspiration from popular designs.
Safe outdoor playground equipment such as roundabouts, climbing frames or even extensive outdoor adventure zones will allow you to easily encourage your pupils to have fun outside the classroom. Some of the common pieces we see are:
Tricky infinity trails
Play panels
Musical games
Sandpits
Water tables
Tunnels and channelling
Rope bridges
Den building kits – More info here.
These will stimulate the mind as well as encouraging physical play – meaning that learning never has to stop inside the classroom. Check out this post to find out more about how climbing benefits primary school children.
Multi-skilled games and trim trails, too, will encourage your kids to really step out of their comfort zones and into a world of safe play that you can rely upon day in, day out. Our equipment is brought together by a number of trusted brands and suppliers, meaning we are proud to offer some of the best playground equipment for primary schools throughout our area and the country beyond.
From safe and soft flooring to protective fencing and even 'chillout zones' for kids to congregate in, there's a wild array of choices for you to pick from – why not take a closer look at some brilliant games and activities which may await your children in the near future?
Kids Outdoor Fitness Equipment
Keeping an eye on kids' fitness levels has never been more important, and through the careful use of outdoor playground equipment and sports standards, you'll be able to encourage your pupils to get stuck into regular outdoor play sessions with very little effort.
Kids' outdoor fitness equipment such as climbing walls and frames, obstacle courses and adventure mazes are great ways for any school play area to really bring out the fitness fanatic in any pupil. Once again – you can mix and match a variety of classic outdoor play standards alongside cutting-edge and contemporary ideas to really get your kids up and moving.
The best playground equipment for primary schools is right here to be marvelled at – take a look at some of the wild ideas we have lined up for break times and we're sure you'll find an eclectic and affordable mix to inspire pupils of all ages. Getting your pupils up and moving – while still learning and developing outside of the classroom environment – just got a whole lot easier. Explore, create, climb, dance and more!
Get expert advice,
today call us on
Get a FREE quote from our award winning team