Playground Ideas
for Invisible Disabilities

All good playgrounds and play equipment will account for a variety of play interests and needs. But it can sometimes be difficult to account for those children with invisible disabilities. Some children may find that they can feel excluded from specific activities at no fault of their own.
It is sometimes hard to make playgrounds accessible to all. However, playground ideas for invisible disabilities are becoming increasingly commonplace across the UK. But which playground ideas are easily accessible for invisible disabilities? And how can you make them a part of your own outdoor play equipment?
It is first of all important to consider what an invisible disability might be, and how we can approach them in the design and setup of a playground.
What is an Invisible Disability?
An invisible disability is defined as a disability that is not immediately apparent or obvious.
These can often be difficult to diagnose, at least on the surface. For example, learning disabilities, heightened sensory perception and social difficulties may all impact our children. But these often come with very little indication. In some cases, unfairly, children are regarded as being boisterous or unruly.
However, we're in a society where we are continuing to show understanding and awareness of invisible disabilities. So it is empowering that more and more schools and play centres are opening up to more inclusive playground toys and equipment.
Other invisible disabilities may be physical, affecting balance, physical sensation and more besides. Diagnosed or otherwise, it is crucial that we approach our children with play equipment and opportunities which are open for all to enjoy.
Social Inclusion on the Playground
Social inclusion on the playground is extremely important. Playtime is a pivotal time for all children. It is where they first learn to socialise, and where they start to form friendships and social bonds. Therefore, all children should feel included when they take part in fun and games outside of lessons and group sessions.
Playgrounds should be inclusive and open for all children to explore their own identities and to develop self-esteem. Playtime is also a great opportunity for children to establish their own feelings of independence. But some supervision is always recommended!
Therefore, to establish such a sense of social inclusion on the playground, equipment and toys need to be open for all to enjoy. Modern playground toys should be designed without discrimination against children with physical or neurological conditions. It is not always simple to find the right equipment to appeal to children of all ages and of all interests.
But more and more centres and school playgrounds are opening up their approach to inclusive play. This means that you will likely find a wider array of toys and equipment on the playground for invisible disabilities. You will generally find more opportunities for young children to explore and play without feeling shut out by default.
How to Design a Play Area for Disabled Children
Designing a play area for disabled children is not always a simple task. This can be the case even more for those with invisible disabilities. The best approach to take is to look carefully at gentle options. These include areas where children can explore sensory play, movement, balance and more.
Playground equipment and play areas ideal for disabled children should require little effort. But they should offer plenty of opportunities for children to use their imaginations.
Imagination is the keyword! Play equipment that requires diverse physical actions can sometimes exclude those with disabilities.
Therefore, exploratory play is ideal for all children. Open sand and water play areas, as well as play spaces where children can use musical instruments and feel different textures, are incredibly inclusive.
Of course, it is important to remember that there are a variety of disabilities that can impact children of all ages. So it can seem impossible to design a playground that will be appealing and accessible to all. You can achieve a play area with potential for imagination, not hampered by physical or neurological constraints.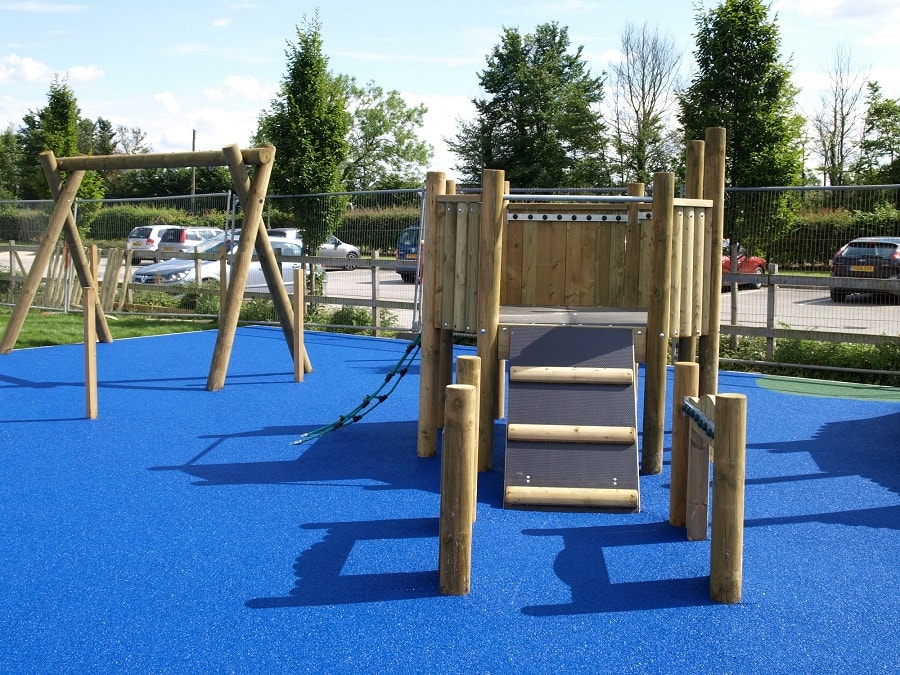 Outdoor Play for Invisible Disabilities
All children are different, which is why outdoor play must be as open and as inclusive as possible. It may be simple to expect most children to enjoy playing on roundabouts, hopscotch grids and monkey bars. But many invisible disabilities may prevent children from enjoying such things. This includes those with conditions that affect the senses such as Sensory Processing Disorder.
Playtime and playgrounds, in general, are crucial to childhood development. There are many circumstances through which children with invisible conditions find themselves locked out. They could even feel they are at a disadvantage when it comes to playing with their peers.
Outdoor play for invisible disabilities should be inclusive for all. It should allow children to include one another and to build social bonds that are so crucial at a young age.
Feel free to get in touch with us for more ideas on playground designs and flooring to help children with invisible disabilities.
Get expert advice,
today call us on
Get a FREE quote from our award winning team